How to Process Bounced Emails
G-Lock Email Processor is supplied with the rule which collects bounced emails from your mail server (POP3 or IMAP), extracts the email addresses from bounced emails and saves them to different files depending on the bounced email type.
The rule is called "Collect Bounced Emails" and includes the "Bounce Processor" and "Save Bounced Emails" components.
The Bounce Processor component identifies bounced emails on the server and extracts the following fields from bounced emails:
Bounced_Email, Bounced_Code, and Bounced_Type
The Bounce Processor recognizes the following types of bounced messages:
Hard Bounce: the email could not be delivered (ie. 550 Mailbox not found).
Soft Bounce: a temporary condition exists causing the email delivery to fail (ie. Mailbox size exceeds quota, host not found).
Mail Block: a bounce occurred because the sender was blocked.
Transient Bounce: transient message such as "Delivery Status/No Action Required".
Challenge-Response: auto-reply message sent by antispam software where only verified email addresses are accepted.
Subscribe: someone is requesting to be added to your opt-in email list.
Unsubscribe/Remove: recipient is requesting to be removed from your mailing list.
Auto-Reply/Out of Office Reply: an automatic response from the recipient (ie. Out Of Office, Vacation Message).
Click on the Rules item in G-Lock Email Processor and then click on the "Collect Bounced Emails" rule.
Click on the Bounce Processor component and then click Edit.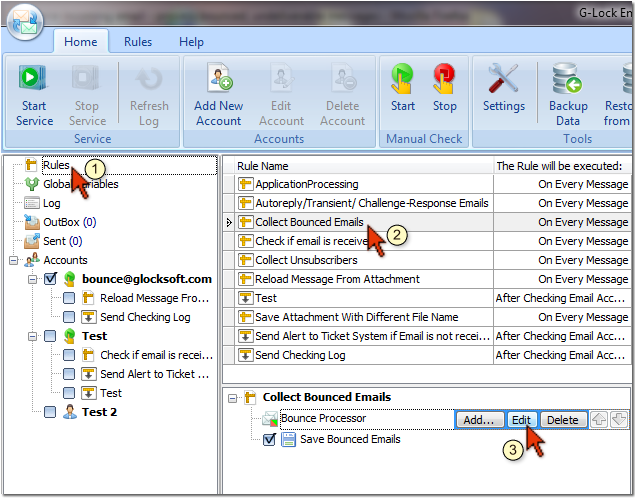 Here you can select the types of bounced messages you want to process.
By default the rule is setup to process Hard Bounce, Soft Bounce and Mail Block emails.
If you want to process bounces of other types too, check the appropriate boxes.
Click OK.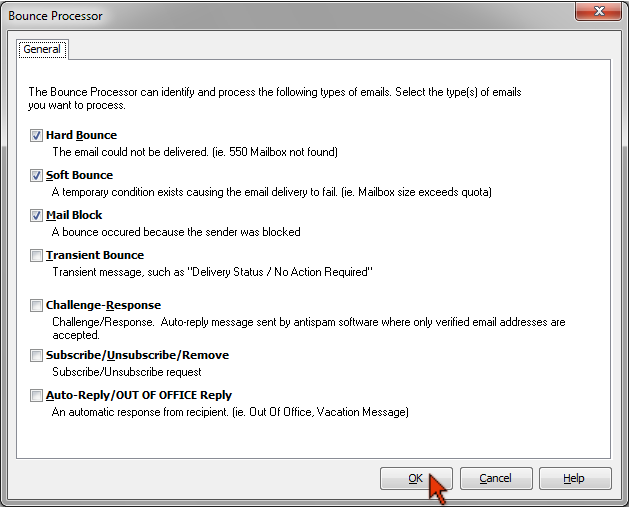 Now click on the "Save Bounced Emails" component and then click Edit.
Here you can specify the path to the file on the disk to save bounced emails and the file format.
The default file path is C:\[%Bounced_Type%].txt
This means that the program will extract the type of bounced message and merge it into the file name.
In the result you will get 3 files in the root directory on the C drive:
Bounce Hard.txt – the file will contain hard bounce email addresses;
Bounce Soft.txt – the file will contain soft bounce email addresses;
Mail Block.txt – the file will contain "Mail Block" bounce email addresses.
In the "Specify file format" area you can select the fields that you want to save to the file. By default only the email address field is saved.
If you want to save the Bounced_Code or Bounced_Type too, click the right mouse button, select "Insert fields" and then select the field name from the menu. You can type commas to separate the fields in the file.
Click OK to save any changes you might have done.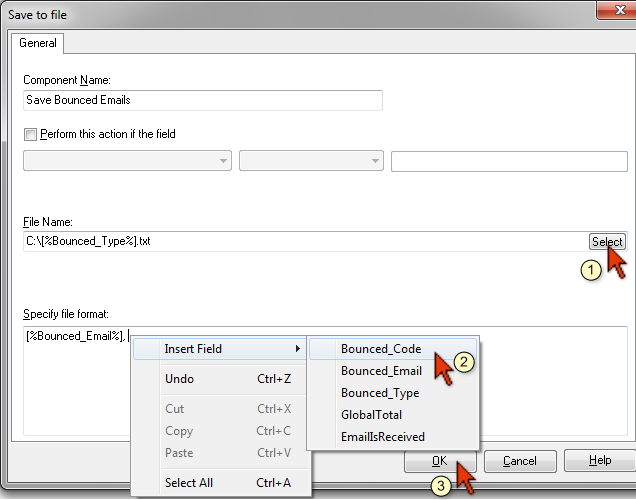 To start processing bounced messages, you need to attach the rule to the account you will retrieve bounced emails from.
If you have not created an account yet, create it now.
It is very convenient to create a separate email account for bounced emails only and enter it as the "Return E-mail Address" in your email marketing software. This way all bounced emails will be collected in that account. You will add this account in G-Lock Email Processor and attach your bounce rule to this account.
To attach the rule to the account, select the rule name, click on "Attach Rule to Accounts" under the Home menu and select your account.

The rule will appear under the account name at the program left pane.
Make sure the boxes next to the account and the rule are checked and click on "Start Service" under the Home menu.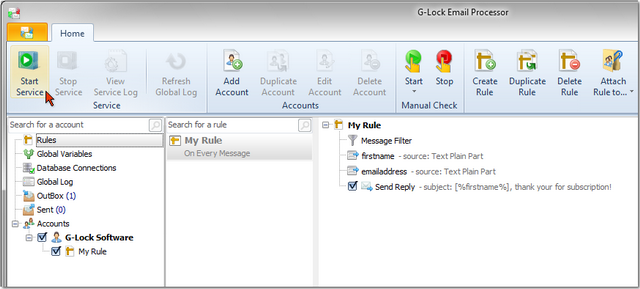 G-Lock Email Processor is a flexible data parser and extractor for processing incoming emails.
Try it for free and process your first emails within minutes!
Besides G-Lock Email Processor, G-Lock Software provides other programs that can process bounce email messages. Depending on the task you want to perform, you can choose the software that meets your marketing needs best:
– G-Lock EasyMail7 email marketing and list management solution. If you plan to do email marketing and sending email newsletters to your subscribers' lists, choose G-Lock EasyMail7. It also has the Bounce Handler that will help you automatically process bounce and unsubscribe emails.
– Advanced Email Verifier list cleaner program. If you have contact lists that you need to clean from invalid email addresses before sending newsletters, the Advanced Email Verifier is right for you. It's a 2-in-1 program that includes the email verifier and bounce handler.
– G-Lock WPNewsman newsletter plugin for WordPress. If you plan to start email marketing and needs quality email lists, use the free Lite version of WPNewsman to put a subscription form to your site and collect subscribers using a confirmed opt-in method. If you want more capabilities such as sending newsletters to your subscribers and processing bounce emails, upgrade to the WPNewsman Pro version.
Average rating:
16 reviews
May 22, 2019
Fantastic Software + Product
We used G-Lock to monitor our purchasing and extract the data into a database. Sometimes it has to process 1k mails, but no time there are any performance problems.

Either provide customized scripts if there something you want to do is not already implemented. So, you can feel free to do nearly everything you want.

The best thing at all is the Support – they will help you to solve every problem almost immediately, even if they must release a new version to fix a little bug.
---
Interested? Learn more about our email parser software for workflow automation.
Further reading: