G-Lock Software
>
G-Lock EasyMail7
Want convenient and easy way to keep in touch with your clients, prospects and subscribers?
Before spending your hard earned money on outdated email marketing programs – Try G-Lock EasyMail7 – the only Newsletter System, Bulk Sender & List Management Software you'll ever need.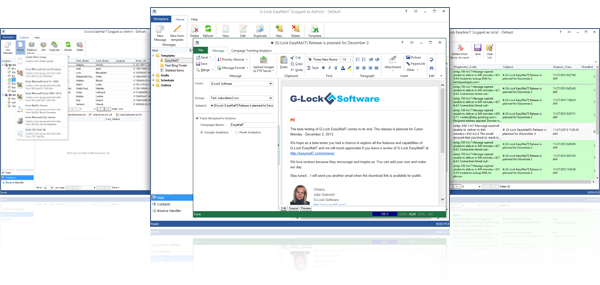 New to G-Lock EasyMail7? Just follow these 3 simple steps:
Your subscriber base is growing and so is the cost per campaign. Going for the monthly plan with email service providers means wasting more money if you don't send newsletters regularly enough. And the bigger your subscriber base becomes, the more expensive it is to communicate with them.
G-Lock EasyMail7 has taken the complexity out of email marketing so that you can focus on innovative ideas that keep your business moving forward. A sleek user interface combined with modern technology and top-tier security makes G-Lock EasyMail7 an easy choice for marketers who need to do more with less.
Who Trusts EasyMail7 To Send Their Emails?

Thousands of large and small businesses in all parts of the world are already using it
to increase sales through email marketing
G-Lock EasyMail7 is a SAFE, PRIVATE and SECURE in-house email marketing solution which eliminates the complexity and expense of operating a third-party email service or outdated bulk email tools.
G-Lock EasyMail7 makes it easy and fun to create and send stunning email campaigns at your own computer and manage your in-house mailing list.
Built on a Client-Server model — you can access your program data located on the EasyMail7 Server and send email campaigns from ANYWHERE.
YOU have control over your lists and data, not someone else.
Unlimited number of recipients and groups — you don't pay more as far as your list is growing.
Integration with popular CRM databases — you don't have to export and import your contact list every time it is updated.
Sending via SMTP server, IIS Pickup Service, Amazon SES API — you enjoy a high deliverability rate like if you were sending through a big email service provider.
Bounce email handling — you keep your list clean and protect your IP reputation from being blocked for repeating sending to bad addresses.
RESTful API for developers — you can integrate G-Lock EasyMail7 into your business process.
The program consists of two components: EasyMail7 Server and EasyMail7 Client with sleek user interface.
The EasyMail7 Server is installed on a local computer or a Windows Server 2008/2012, Amazon EC2 or Windows Azure Virtual Machine where you can deploy your own customized Windows Server. It runs as a service in the background and does most of the work: send out messages, check for incoming returned messages and update the contact lists.
The EasyMail7 Client can be installed on as many computers as you want. Users login to the EasyMail7 Server from their computers and manage email lists and campaigns.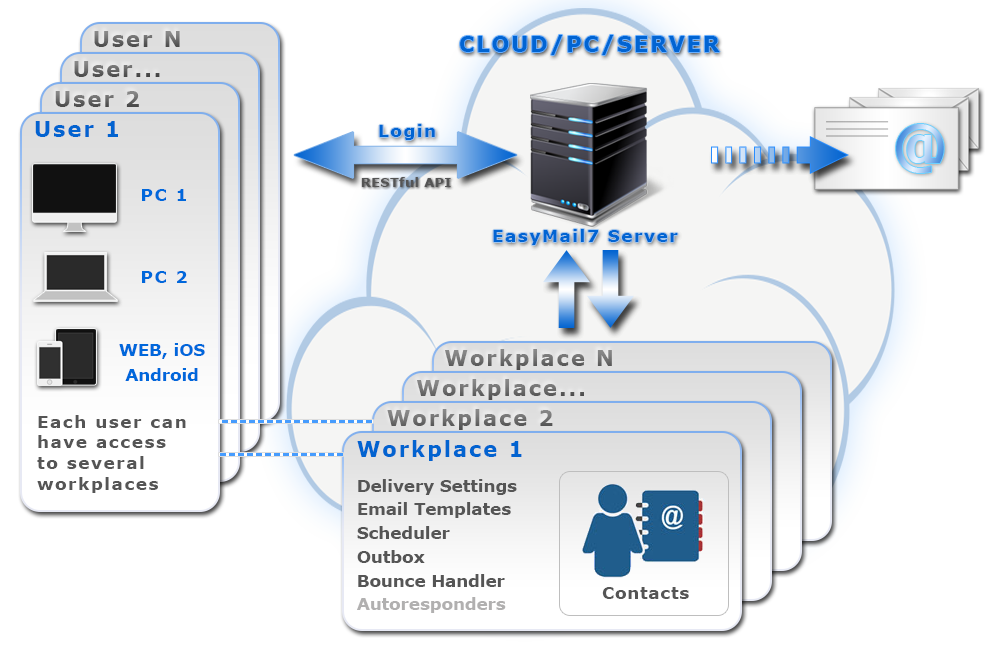 G-Lock EasyMail7 client-server model
Get the FREE Version Now - unlimited contact groups and recipients! No expiration date!
---
You'll like the new look and feel. Everything is easy to setup and get started. But don't take our word for it. Download the free version of G-Lock EasyMail7 right now and try it for yourself!
With free version you can send 12,000 emails per month (250 messages per hour).
No limits in features, contact groups or recipients! No expiration date!. All features are available for customers at every license
So if you want convenient and easy ways to keep in touch with your subscribers, clients or customers try G-Lock EasyMail7 TODAY:
What You Get When You Use G-Lock EasyMail7
---
G-Lock EasyMail7 provides you with all the features essential to any reliable bulk email program and mailing list management tool [some of which you won't find in our competitors' email tools!]:
Support of multiple users/workplaces — if the license allows, admin can create multiple users and workplaces on the EasyMail7 Server and grant users access to one or more workplaces. Each user has the full control under his own workplace(s) allocated to him by admin.
Safe and secure newsletter sending — G-Lock EasyMail7 keeps your list private and secure. Our email sender program does not expose your subscriber's list to the list members.
Unlimited number of recipients and groups — you don't pay any additional fee for our mass email software as far as your list is growing.
Sending to multiple groups at a time — with G-Lock EasyMail7 you can send the message to more than one contact group at the same time. Our bulk email sender automatically skips duplicate email addresses between groups.
Integration with CRM Databases — G-Lock EasyMail7 can connect to any ODBC compatible database on the network like MS Excel, MS Access, MySQL and take the contacts' email addresses, names and other contact information directly from the database. No need to export-import the recipients into G-Lock EasyMail7.
Tracking capabilities — G-Lock EasyMail7 is integrated with G-Lock Analytics email tracking service to track email opens, link clicks, email clients recipients use, and with Google Analytics and Piwik Analytics that you can use to track the recipient's actions further on the web site.
Customizable unsubscribe link — our G-Lock EasyMail7 email sending system provides you a ready to use unsubscribe link that you can merge into the message. You can customize the unsubscribe link as you like and have different unsubscribe links for different groups.
Professionally designed HTML email templates — G-Lock EasyMail7 is provided with a rich store of professionally designed HTML email templates that you can download, customize and use to create your email newsletters.
Built-in FTP client — you can upload pictures used in your message to your web server directly from G-Lock EasyMail7. The program will then automatically replace local paths of the images in the message with the paths on the web. This helps you decrease your message size, increase the sending speed and ensure the pictures will be displayed correctly within the message. Plus, you save your money if you send using a 3rd party service for example Amazon SES where they charge you for data transfer.
Bounce email handler — our email marketing software recognizes many types of return messages that are common when using an email newsletter program, including soft and hard bounce messages and sorts them for you. This means that using our newsletter system you can keep your list up-to-date, prevent your IP from being blacklisted, protect your good sender reputation, and increase the speed of sending for future email campaigns.
Unlimited features in ANY paid version — the license price depends on the number of users and workplaces you can have within G-Lock EasyMail7. There are no limitations in features for paid licenses. So, you can be assured that whatever size of business you are and whatever paid license you have, you will always have access to all features of our bulk email software.
… and much more. See the complete list of G-Lock EasyMail7 features →
Who Is Our Bulk Email Software For?
---
G-Lock EasyMail7 can be used by anyone who wants convenient and easy way to keep in touch with their subscribers, clients or customers. Our bulk email marketing software works perfectly for:
International corporations who have multiple mailing lists with numerous contact fields and where several employees need to manage lists and email campaigns from different places.
Small-to-medium sized businesses who need to send email newsletters to their clients.
Entrepreneurs who want to send emails to their subscribers or do email marketing for the 3rd parties.
Anyone who wants to communicate with their customers via email newsletters to get traffic to their site or sales pages