G-Lock EasyMail7 Overview
Your subscriber base is growing and so is the cost per campaign. Going for the monthly plan with email service providers means wasting more money if you don't send newsletters regularly enough. And the bigger your subscriber base becomes, the more expensive it is to communicate with them.
We at G-Lock Software are very proud to introduce you our unique email automation software for permission based email marketing — G-Lock EasyMail7. G-Lock EasyMail7 was specifically developed to save your time and money and eliminate the complexity and expense of operating a third-party email service or outdated mass email tools. It gives you the competitive advantage to boost online sales through email marketing without the high costs plus YOU own and have control over your lists and data, not someone else.
G-Lock EasyMail7 is built on a client-server model. The program consists of two components: EasyMail7 Server and EasyMail7 Client with beautiful, easy to use and understand user interface.
The EasyMail7 Server installs on a local computer or a Windows Server 2008/2012, Amazon EC2 or Windows Azure Virtual Machine where you can deploy your own customized Windows Server. It runs as a service in the background and does most of the work: send out messages, check for incoming returned messages and update the contact lists.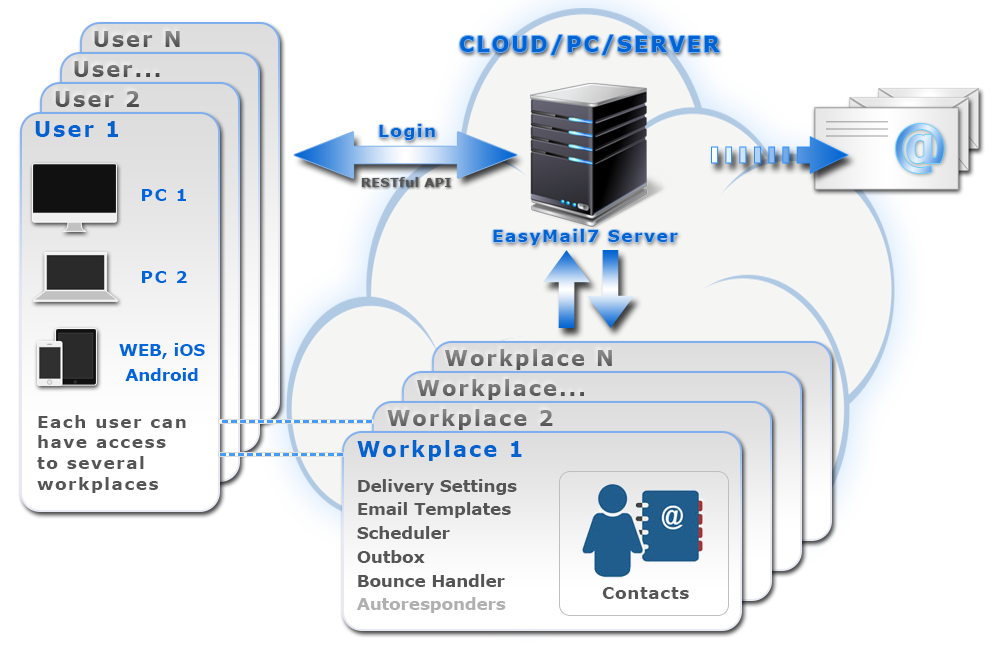 The EasyMail7 Client can be installed on as many computers as you want. Users login to the EasyMail7 Server from their computers and manage email lists and campaigns.
Admin can create and manage users and workplaces and assign users to workplaces.
Why Are So Many Marketers Using G-Lock EasyMail7
---
Most Affordable
No per-email fee! No limits for subscribers! This means that you can use G-Lock EasyMail7 to send as many email newsletters to your contact list as you want, for a one-off low price, and you do not have to pay more as far as your list is growing.
Incredibly Popular
Thousands of large and small businesses in all parts of the world are already using G-Lock EasyMail7 for sending stylish newsletters, promoting small businesses and managing email contact lists every day. We have packed a ton of power into G-Lock EasyMail7 and many unique features you won't find in any other autoresponder, sendblaster or email management platform. We not only wanted to make this incredibly powerful but also accessible as well. So, we made this affordable, easy to use, and you can be up and running in just a few minutes…
Keeps Your Data Safe and Secure
No need to rely on a third-party to store your mailing lists and messages. G-Lock EasyMail7 stores your email list and messages locally – on your own machines. This ensures that email addresses on your contact list remain private. The program uses an encrypted connection between the EasyMail7 Server and Client keeping your data safe and secure.
Helps You Build Trust and Loyalty
G-Lock EasyMail7 helps you establish and improve relationships with your subscribers, buyers, clients and customers and easily convert subscribers into buyers through email marketing newsletters.
Keeps Your List Private
G-Lock EasyMail7 creates and sends individual emails to each recipient in your group, ensuring the privacy of each person on your list. G-Lock EasyMail7 does not expose your list to other recipients in your group.
Easy Integration
G-Lock EasyMail7 can connect to popular databases like MS Access, Excel, My SQL, MS SQL Server, Oracle, and others. This means you do not need to export-import your contacts every time you update your database.
Full Control and Freedom
G-Lock EasyMail7 is built on the client-server model which means you can manage contact lists and send email campaigns from a remote location, for example, from your laptop while travelling. And unlike other services, with G-Lock EasyMail7 you're free to import your list of any size and with any data you wish. No limits for custom fields!
Easy and User Friendly
Creating and sending beautiful newsletters, contact management, bounce handling, opt-outs and tracking is a breeze with G-Lock EasyMail7 email marketing software. G-Lock EasyMail7 is supplied with a rich collection of HTML email templates that you can install and use for your newsletters on the fly!
We Treat Customers as We'd Like to Be Treated
We do our best to provide our customers the best support and answer support queries within 24 hours on business days. We are also able to help our customers solve problems they may have with our software in real time using TeamViewer.
We Love to Innovate
G-Lock EasyMail7 has been around for over 10 years and we love to improve it by implementing customers' suggestions and feature requests in regular program updates.