Improving Email Open Rates
The easiest part about email marketing is writing a simple message to get readers interested in your products or services. The hardest part is getting them to open the email.
Improving your open rates – the percentage of people who view your email – remains a difficult but surmountable task. Mix a combination of strong subject lines and enticing copywriting with a promise of continuing offers and a clean list, and you will having a winning campaign.
Persistence, pure and simple, helps, too.
Once you nail the program down you can achieve at minimum a 20 to 30-percent open rate. To get to that point, you need to follow these tips:
1. Write Great Subject Lines
There are many ways to craft great subject lines. One way is to promise great information or products. Target.com recently sent an email directly pitched toward people thinking about furniture: "20 Percent off furniture for inside and out." The WP Beginner site – geared for WordPress users – offered: "Here's a Quick Way To Get More Email Subscribers."
Both subject lines get to the point, and they do not rely on cleverness or coyness. It's clear what the offer is and why you may want to open it. Tell what's inside the email, do not sell it.
These emails also follow a cardinal rule of letting readers know who has sent the email – Target.com and WP Beginner's Team. Don't try to trick anyone by not using your company's name in the "From" line.
Good subject lines can also dangle a pitch. They can start with a part of sentence "12 ways to…" and finish the prompt in the email body itself with "improve your email open rates."
Subject lines often promise scarcity, urgency and implication. "Only 10 Offers Left" or "Buy in the next 24 hours to receive 30 percent off." Another method implies that the email holds important and useful information: "Five Ways to Avoid Shoulder Pain" or "Weight Loss Through Desk Exercises."
Avoid using spam words such as "free" or dollar signs or other symbols that tend to send emails to users' trash folders. Some experts suggest the recipient's name in the subject line, others suggest using it only at the beginning of the email itself.
A great way to stand out in the recipient's Inbox is to use special symbols in the Subject line to grab the reader's attention. If you start using symbols in your subject lines, you will see a lift in email open rates. Something unusual always grabs attention. However, use the symbols wisely. If you over do it or use the same symbol too often, the "newness" will wear off and so will the bump in your open rates.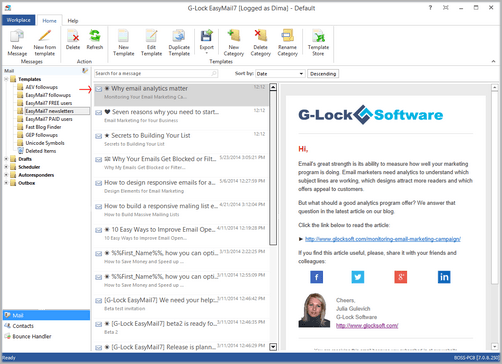 2. Focus on Good Email Copy
The copy of the email is equally important, more so now than ever before. Many users read email in their preview panels, making layouts, headlines and copy a make-or-break proposition.
For the emails we discussed, Target went for pictures of furniture to move open rates. WP Beginner, on the other hand, offered only words – but pretty effective ones at that – with the following: "I'm surprised by the number of businesses who are not building their email list…". The original paragraphing was kept to provide evidence that long sentences will not get read.
Keep your email sentences brief. Split up the content so readers can scan it quickly. Embed links if you want to prompt them to learn more.
3. Maintain Up-to-Date Email Lists and Keep Sending
Nothing kills your open rate faster than a list full of dead email addresses. G-Lock's free Email Verifer works seamlessly with EasyMail7 and helps clean up email lists quickly so you are sending mail only to valid addresses.
Even with a good list, you will find not everyone opens your email every time. Sometimes it may take several attempts, so don't give up. Industry averages say people don't start really responding until the seventh email.
4. Vary Release Times and Subject Lines
Knowing when to send emails continues to be a vexing problem, especially in the age of mobile communication. You can use an email program such as G-Lock's EasyMail7 to distribute mail at different times of the day to see if certain hours produce better open rates.
You can also test subject lines to see what works. You might find one subject line outperforms another by 20 percent. That might instruct how you go about writing future subject lines, or whether you want to use more successful ones immediately to capitalize on an offer that seems to be working.
Increasing open rates is part science, part writing, part offers that work and persistence. Let's not forget luck, either. The more you focus on the results, using data-driven email programs such as EasyMail 7, the more you will convert readers into customers.

Try G-Lock EasyMail7 for Free Today!
Еasily Create, Send and Schedule Promotions Emails, Newsletters or Invitations Your Customers Will Love.
Don't put your profits in the hands of a third party, be in control of your email — OWN YOUR DATA, OWN YOUR AUTORESPONDERS, CONTROL YOUR INBOX DELIVERY, REPUTATION, DELIVERY SPEED and either send email for free using your SMTP or use any number of third party email senders of your choice like AMAZON SES API… No Monthly Fees!
An effective email marketing system should include the following tools:
Automated email sequences that drip on your contacts over time to build trust and convert your subscribers into active and happy customers.
A email scheduler for planning your announcements, newsletters, and special occasion emails weeks or even months in advance.
A simple way for you to create sign-up forms so you can connect your marketing efforts to auto-populate your contact lists (we provide WPNewsman plugin for WordPress for free).
A professional collection of quality responsive HTML email templates that you can install and use for your newsletters on the fly.
An automated way of processing bounce and unsubscribe emails to be in compliance with the CAN-SPAM law in various countries.
Training and support from those who have years of experience in email marketing systems, management and success.
With G-Lock EasyMail7 you have the right email marketing system to help you maintain and grow your business.
Average rating:
17 reviews
Nov 25, 2014
Use for many years
I have used several versions of EasyMail and recently upgraded my version to 7.0 and we bought several copies for the company I work for as well. The cost is very reasonable and the tech support is prompt. Updates arrive frequently.

I love the fact that my mass emails can be highly personalized and still look like regular emails, vs. emails from Constant Contact etc. I can also go into the HTML code and tweak things if they are not right. We use Amazon Web Service SES which is very affordable. A great product for those who have reasonable computer skills to set everything up.

Thank you G-Lock!

Martin Ucik,
President at singles2couples.org