Skyrocket Your Open Rates With Irresistible Email Subject Lines
Reading, answering and deleting emails has become a significant part of an average office worker's day. Studies show about one quarter of employees' time is spent on emails, and each receives around 108 a day.
Those statistics come from research by McKinsey Global Institute and International Data Corp. and Radicati Group. As astonishing as these numbers are – and some people might laugh at 108 a day, receiving twice that or more – the statistics point to how incredibly difficult it can be to cut through the clutter with a message that works.
That's where subject lines come into play. They are the key to higher open rates, increased visits to your websites and, ideally, greater conversions to customers.
So you need to pick the words for your subject lines wisely if you want to get the subscriber's attention. After all, you're asking to spend their time for you, which is preciously split between replying to emails they're responsible for, sitting in meetings, and managing projects and people.
Loads of advice about writing effective subject lines exist. But many sources promising best practices for subject lines are actually sharing the wrong strategies, the strategies that have become the most used and the most ineffective at the same time.
Those tactics were applied by the sales community, which quickly made them corny and easily recognizable as sales outreach. Most often, such emails are deleted without ever being opened.
Below are five major things you want to avoid when creating subject lines if you want to shift readers from hitting the delete button to opening your email.
#1. Quick question or quick request.
Asking a question in an email subject line is a popular tactic marketers use to push the recipient to reply. They do it because they were taught that it was a practice that delivered higher open rates. But it's not anymore.
Nowadays, a subject line asking a "quick question" along with "quick request" is one of the top ten most used and least effective ones.
Being crazy busy and overwhelmed by email messages, recipients make half second decisions to open, delete, or save the email for reading later.
The problem with asking anything in a subject line is that you put the duty on the reader to think and respond. You're essentially asking them to do more work. That extra effort in the context of half-second decisions is what makes it less likely to get your message opened.
The easier alternative for them is simply to ignore. No matter how small your request or quick your question, you can't ask before delivering value.
#2. "Are you the appropriate person?"
It's also time to trash the "Are you the appropriate person?" subject line. The Yesware's analysis has revealed that "the phrase "appropriate person" had a reply rate six times lower than the average", and yet it is one of the top ten most used 2-word phrases in outgoing email subject lines.
If you want to know if they're the appropriate person to contact, do some research. If it's your trick to reach who you know is the right person, it's the wrong one and won't bring the replies you're looking for.
#3. Exclamation point!!!
An exclamation point in the email subject line is not a catching element anymore as the research shows that exclamation points in subject lines lead to lower than average open rates.
And there is a risk that the email doesn't even get to the inbox in the first place because this type of punctuation is actually a trigger for spam filters.
#4. Personal greeting.
While marketers continue using greetings (hi, hey, etc.) and merge fields to personalize email subject lines, it's no longer effective.
Email recipients used to know from such seemingly personal subject line that it's really a mass email and delete the emails to avoid that first time they expected a personal email and were wrong.
If you want to personalize your email, save personalization for the body of the message. In EasyMail7, you can use dynamic fields to create a personalized message for each recipient.
#5. Invitation to an event, exclusivity or urgency.
Subject lines inviting subscribers and customers to events are also overused, and therefore do not instill the high level of persuasion. Neither do the subject lines used to drive some exclusivity or incite urgency.
Instead of just telling them they're invited, tell them why they should attend.
Now:
Let's consider the subject line writing practices that have not lost their relevance and effectivity. So you can apply them when you are about to create a nice subject line for your newsletter or marketing campaign.
1

 The shorter, the better.

The Yesware's research showed that the subject line effectiveness decreased with each additional word.

So keep subject lines short. In fact, fewer than 50 characters is best. Remember, many people are reading subject lines on mobile devices, which favor brevity.

The shocking fact is that the best performing subject line is a blank one. One possible reason why blank subject lines could get high open rates is because they deviate from the norm and trigger curiosity, which pushes the recipient to stop and open the email.

This could also explain why subject lines with fewer words perform better than length ones.
2

 Forward or reply.

Subject lines that indicate a forward ("Fwd:") or reply ("Re:") get more opens. It looks like email recipients are more likely to open an email when they've already had a prior communication with the sender than a cold email from a stranger.

If you're following up a prior email that you've sent to a subscriber, reply as a thread with the message history included.

Don't add "Re:" if your email isn't part of a thread or "Fwd:"" if you are not actually forwarding an email. The trick might get you the open, but you will lose the recipient's trust.
3

 Numbers.

Numbers in email subject lines are still a powerful persuasion. They work well in sales emails.

And they can work in newsletters, too. For example, if you mention a case study in your prospecting email, include the metric of success that was achieved as a number in your subject line.
4

 Symbols.

Something unusual always grabs attention. So you can insert a symbol into the message subject to stand out in the recipient's Inbox.

EasyMail7 allows to insert most popular arrows, numbers, symbols and currency symbols into the message subject and body. However, use the symbols wisely. If you over do it or use the same symbol too often, the "newness" will wear off and so will the bump in your open rates.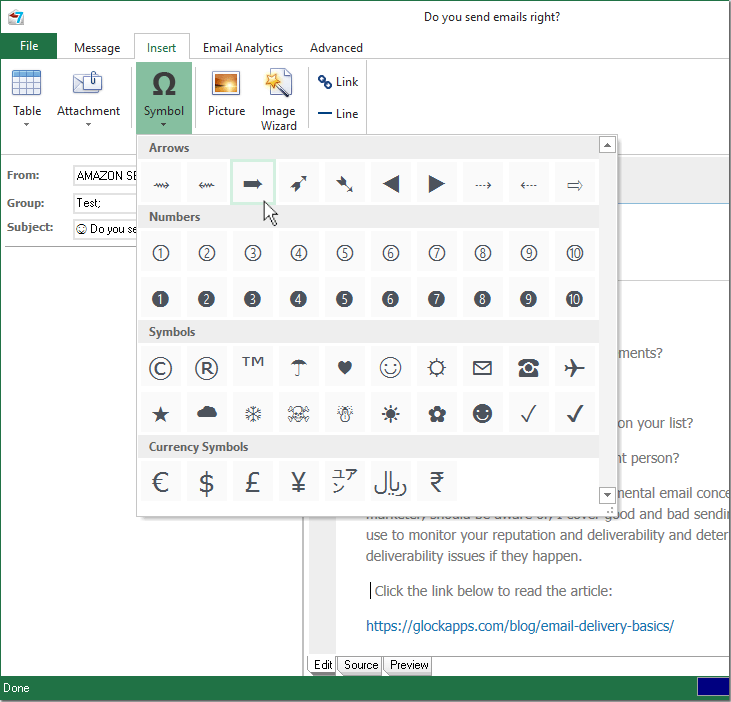 5

 Title Case.

While the most popular casing for the email subject line is the sentence case, the most effective case is the title case.

Title case: Biomass Webinar Today

Sentence case: Biomass webinar today

Lower case: biomass webinar today

The title case in the subject line leads to 54.3% open rate vs 51.9% average open rate.

The reason could be that we respect people who have authority. Even this small thing as using title case instead of sentence or lowercase in an email subject line is an authority badge for the sender and a respect for the recipient. It's like coming to an office in a suit instead of a pair of shorts.
6

 Human, not Robot.

Though the Subject line should be short, it should sound like it was written by a human being. Some marketers write their subjects as if they're writing a telegram.

Even though the recipient can understand what the message is about, after reading it, there's nothing wrong with writing the Subject like a complete sentence and adding function words and punctuation marks, if you need them. All these things add a human "face" to your Subject.

For example, instead of writing "News about [something]", try using "I Have News about [something]. Please, read…"
7

 Reasonable Intrigue.

It's a good tactic to add some enigma to the Subject line, but it should make sense. Would you open an email if the subject tells "I Have an Idea…"? I'm afraid I wouldn't.

If the sense is lost somewhere in the body of the email, the recipient is more likely going to be annoyed, rather than intrigued.

Yes, the Subject line is supposed to grab the reader's attention, but if it makes no sense it's just going to be frustrating.

Even worst, the recipients may think that you're trying to trick them to make them open your email, and that's just going to make them avoid your future messages altogether.

So, instead of "I Have an Idea…", consider the sentence like "I Have an Idea about [something] I Want to Discuss".
8

 Truth and Normal Tone.

Misleading subjects seem to be a good trick to increase your open rate, but does that help your bottom line?

The tricking email subject line may make the recipients open the email, but once they get to the actual content, they might feel upset and baffled if your Subject line set other expectations.

Also, avoid pompous phrases and words like "Wow! You HAVE to See This!" Most recipients are going to feel the deception immediately.

Try something neutral like "I Found An Interesting Tool [Article, Case-Study, Whitepaper, Resource etc.]".
9

 Proofreading.

Take a few additional seconds and check your Subject line for spelling errors. Spelling errors are going to make a bad impression about your brand, and may affect the way the recipient treats your message. They even might be discouraged from opening the email at all.

After you spent a lot of time crafting the Subject and content, you might just want to send the message immediately and forget it. But, take a few seconds and look it over, or better ask someone to read your email. A new pair of eyes often helps.

Remember that the effectiveness of email subject lines also depends on your audience, type of emails, sending hours and days, and mailing frequency. Thus, we highly recommend that you stage some A/B test runs to determine what reaches the most of your recipients and convinces them to open your email.

Get G-Lock EasyMail7 for Free Today!
Manage delivery in-house or outsource to multiple providers
Works as a powerful front-end to email delivery services, SMTP relays and on-premise email solutions and transforms them into fully functional in-house Email Service Providers
EasyMail7 has a great deal of intelligence built-in, such as bounce handling, feedback loop analysis and automatic suppression lists which can protect your reputation by preventing redelivery to failed or complaining addresses.
Better delivery, lower costs, no locking.
Download 14-days FREE Trial Today!
System requirements: Windows Vista, 7, 8, 10 Windows Server 2012/16 or higher
Average rating:
17 reviews
Nov 25, 2014
Use for many years
I have used several versions of EasyMail and recently upgraded my version to 7.0 and we bought several copies for the company I work for as well. The cost is very reasonable and the tech support is prompt. Updates arrive frequently.

I love the fact that my mass emails can be highly personalized and still look like regular emails, vs. emails from Constant Contact etc. I can also go into the HTML code and tweak things if they are not right. We use Amazon Web Service SES which is very affordable. A great product for those who have reasonable computer skills to set everything up.

Thank you G-Lock!

Martin Ucik,
President at singles2couples.org