How to Read and Process PDF Email Attachments
A lot of organizations and marketers receive important data in PDF files that come to them as email attachments. And they need to parse the attachments, extract data and manipulate it the way they need it.
It is now possible to pull data from PDF files which are attached to the emails with G-Lock Email Processor.
In addition to saving PDF attachments to the hard disc, G-Lock Email Processor can parse PDF attachments, extract data from PDF attachments and add extracted data to the database columns or TEXT/CSV file. It can even save different attachments to different folders based on your criteria and eliminate to need to sort attachments manually. Plus, G-Lock Email Processor allows to use extracted data in email messages sent to the users.
This is how it works:
G-Lock Email Processor monitors POP3 and IMAP email accounts and retrieves messages that you received to your mailboxes. Then it processes retrieved messages according to the rules that you set up.
In the rule, you can add a data extractor for each data field you want to extract from the PDF attachment. Set the source of the data extractor to "Converted PDF Attachment to plain text". You will then see the text part of the attached PDF file. Then specify the start and end search position to extract the desired data. The image below shows this step.
From there on, everything works as usual: you can set up multiple data extractors to extract multiple data sets from the PDF attachment. You can also manipulate extracted data the way you need it using the post-processing script.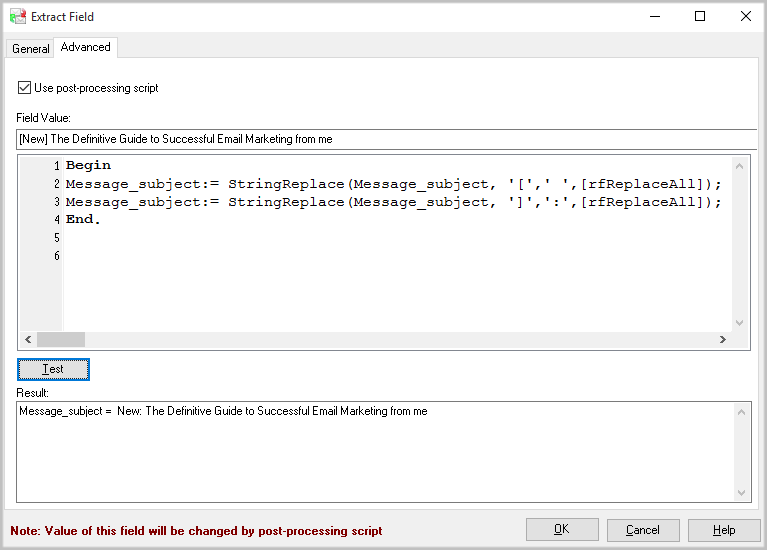 In addition to PDF files, this tool can parse email attachments in most standard business formats such as TEXT, HTML, and CSV.
G-Lock Email Processor is a powerful data parser and extractor for parsing PDF attachments. Using G-Lock Email Processor you can release yourself from a huge amount of manual work and save hours of precious time.
Try it for free and parse your first PDF attachments to the database within minutes!
Average rating:
16 reviews
May 22, 2019
Fantastic Software + Product
We used G-Lock to monitor our purchasing and extract the data into a database. Sometimes it has to process 1k mails, but no time there are any performance problems.

Either provide customized scripts if there something you want to do is not already implemented. So, you can feel free to do nearly everything you want.

The best thing at all is the Support – they will help you to solve every problem almost immediately, even if they must release a new version to fix a little bug.
---
Interested? Learn more about our business process automation software.
Further reading: