How to Parse Restaurant Reservation Emails Automatically
Using your website to drive restaurant bookings?
G-Lock Email Processor offers an automated solution that allows your restaurant to parse reservations coming as emails and aggregate data into one place.
Whether you are receiving booking emails from your own website, or other 3rd party sources, you can extract all the information from those emails, and send it to a variety of tools to ease your booking processing tasks.
Want to accumulate all of the requests in one common Excel sheet? Or maybe you want to send the aggregate information about all daily bookings in one email message to your reservation counter? Or you want to send a booking confirmation message to the client? These are the tasks you can accomplish with G-Lock Email Processor.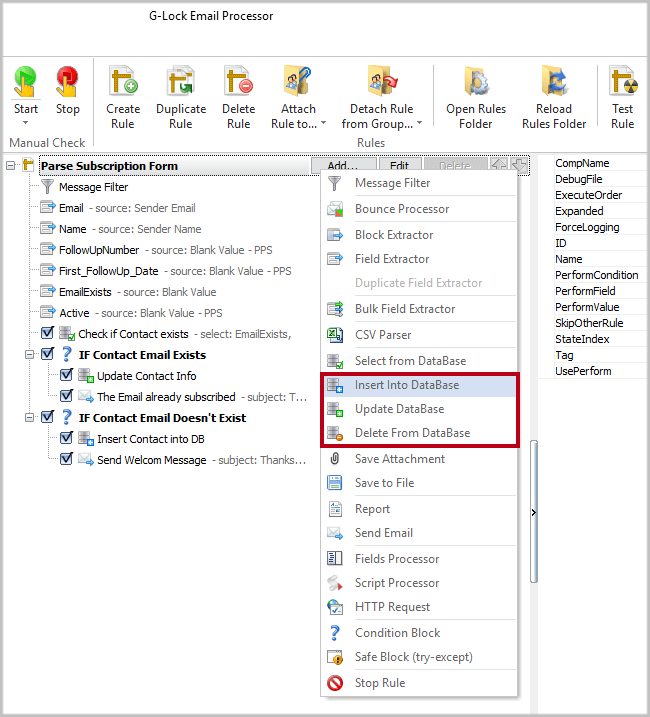 Many restaurants tend to keep their bookings in real-time. G-Lock Email Processor allows you to extract exactly the information you want from each email, and send it where you want. This allows you to ensure that you are seeing the online requests in addition to the walk-ins.
Additionally, you can capture all the email addresses from your online bookings and use that data in email marketing systems to email your clients about a weekly dinner special, or a customer appreciation event, or live music that comes every Sunday.
All of these tasks are simple to accomplish when you parse your emails with G-Lock Email Processor.
No more missing email reservation requests or wrong names! The workflow automation ensured by G-Lock Email Processor will allow you to eliminate manual data input, save your time and increase data accuracy.
We offer a free trial in order you can see our software in action prior to any commitment.
Download Free 30-Day Trial ->
System requirements: Windows® 10 Windows® Server 2008 or higher
---
Interested? Learn more about our email parser software for workflow automation.
Further reading: