How to Automatically Parse Email to Database

Extract Data from Incoming Emails and Convert It to Database
If you're doing business online, you probably maintain a database of your customers, clients, or subscribers. Typically you store the customers' email addresses, names, order numbers, and purchased products in the database. Plus, you may want to keep the customer's personal information such as postal addresses, phone numbers, fax numbers and much more in your database. It's a large volume of data that you need to keep in order — add new customers, remove customers, and update the customer' information on their request.
Have you ever thought how much time you spend on the tasks such as extracting data from emails and pasting it into your database, manually? It can literally take hours. And as far as your online business is growing, you'll be receiving more and more emails. One day you may find out that it eats up almost all your working time to extract form data from email to Excel, MS Access or any other database.
Parse Any Email to Database with G-Lock Email Processor
So, why not automate your email processing and convert emails to the database records in minutes? G-Lock Email Processor will extract data from email forms — customer's name, email address, postal address, order ID, product name they purchased, purchase date, license type, or whatever you tell it to extract — and add it to your database. It can be a local or remote ODBC compatible database such as MS Access, MySQL, MS SQL, Oracle and others.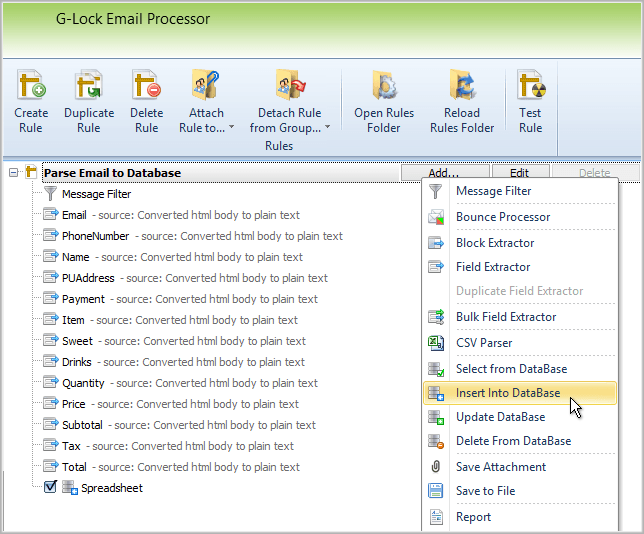 It's easy to get started with G-Lock Email Processor. You just create an email account within the program from which it will read your emails, add the filter to catch the emails you need, for example, purchase orders, completed web forms, unsubscribe requests, and tell the program how to extract data from email and what it must do with the extracted data — write the data to the database, update existing records, or delete records based on the extracted data.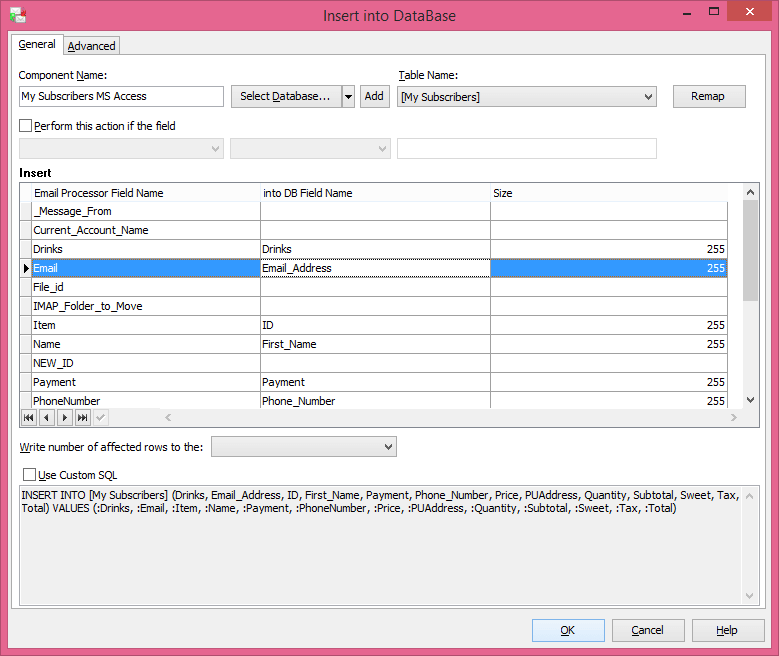 Once set up, the extraction rule will boil down the email to the database you are looking for.
For example, each email campaign may generate you a number of unsubscribe requests. You don't want to waste your time on those recipients but you can't ignore them either. So, you setup G-Lock Email Processor to catch unsubscribe requests by, for example, the word "Unsubscribe" in the Subject, extract the recipient's email address, check your database if such email address exists and remove the record associated with this email from the database. While the program is doing the job for you, you can focus on more important aspects of your business, or just have a rest you deserved.
The greatest thing is that you don't even need to start G-Lock Email Processor manually. It runs as a service and automatically starts when you turn your computer to On. You can even make the program work for you 24 hours/7 days a week and have your work done in a timely and accurate manner without spending a single minute of your working time for it.
G-Lock Email Processor is a flexible data parser and extractor for converting incoming emails to easy to handle databases.
Try it for free and parse your first emails to the database within minutes!
Average rating:
16 reviews
May 22, 2019
Fantastic Software + Product
We used G-Lock to monitor our purchasing and extract the data into a database. Sometimes it has to process 1k mails, but no time there are any performance problems.

Either provide customized scripts if there something you want to do is not already implemented. So, you can feel free to do nearly everything you want.

The best thing at all is the Support – they will help you to solve every problem almost immediately, even if they must release a new version to fix a little bug.
---
Interested? Learn more about our G-Lock Email Processor.
Further reading: