Real-Time Email Verifier from G-Lock Software
If you use email marketing as a way of communication with your subscribers, clients or customers, then it's important for you to maintain a clean email list with valid contacts.
Advanced Email Verifier from G-Lock Software is desktop email verifier software designed for businesses and individuals who collect email addresses and send newsletters to their subscribers. Our real-time email verifier is a viable solution for standard message delivery errors and high bounce rates you receive from your email service provider. The program verifies every email address from your mailing list and reports back with easy to understand verification results and status codes. Advanced Email Verifier helps reduce bounce rate by removing invalid addresses from your list or database.
Compared to online email verifier services, the Advanced Email Verifier is more affordable as you don't have to pay more as far as your list is growing. You pay only once for the license and you can verify as many email addresses as you need. No limits per day! And you don't have to upload your email lists to a 3rd party database and wait from several hours to several days for the task to be completed. With our Advanced Email Verifier your lists are maintained securely on your local computer and the verification goes in real time.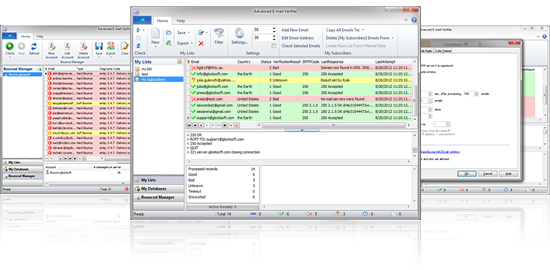 Want to get rid of bad email addresses and focus on REAL prospects only?
Try our email verifier now!
How It Works
To verify the email address, the Advanced Email Verifier uses the method of simulating message sending to the user's email account without the user ever knowing it.
The Advanced Email Verifier waits for the response of the mail server and marks the email address based on the recipient's mail server response. If the mail server says that the user exists, the Advanced Email Verifier disconnects and marks the email address as good. If the mail server says that the user does not exist, the Advanced Email Verifier disconnects and marks the email address as bad. If the mail server does not trust the IP address (in this scenario your computer's IP) the connection is made from and rejects the connection, the Advanced Email Verifier marks the email address as unknown. With that said, the accuracy of list cleaning depends on your IP address reputation.
The bad thing is that you can get your IP address blacklisted with some ISPs if you hit a spam trap account on your list. Keeping this in mind, we did our best to make the use of the Advanced Email Verifier as safe as possible and affordable for everyone. And according to our policy of use, we do not allow to use the Advanced Email Verifier to verify lists that were purchased or harvested on the Internet that potentially contain spam trap email addresses.
We implemented different connection modes — methods of connecting to the recipient's mail server for email verification. Thus, our real email verifier can connect to the recipient's mail server using:
direct Internet connection. This mode works if your Internet provider does not block the port 25 for external connections. In this scenario, your IP address is the most vulnerable for blacklisting, especially if you verify an old email list where some email addresses may be turned into spam traps.
script on your web site. You can consider this mode if your ISP blocks the port 25 and you can't verify emails in the direct connection mode. The script is provided with the Advanced Email Verifier. All you need is to upload the script .php file to your domain and enter the script URL in the program settings. In this situation, your computer's IP address is not affected but your domain's IP address may be blacklisted.
email validation API from BPSocks. BPSocks is the 3rd party online email verification service. Our Advanced Email Verifier is integrated with it so that you can run the verification through the BPSocks servers using the API Key. This is the most easiest and safest way of email verification. So, if you do not want to upload your lists to a 3rd party database and want to protect your IP address from blacklists, BPSocks email validation API is the best choice. Though they charge you depending on your list size, it is still cheaper than using an online email verifier service alone.
Another great thing about the Advanced Email Verifier is that it has the built-in bounced manager. The bounced manager is designed to process returned messages after your email campaign. You should be aware that no matter what email verifier software or service you use, it cannot guarantee 100% accuracy.
The biggest problem with validation is accept-all or catch-all domains, which will tell you that even a long dead email address is valid, thus inflating the numbers of valid emails erroneously. Of course the single best way to build and maintain a quality list of email addresses is through a properly managed confirmed opt-in process, organically growing a list by attracting visitors to your product or service with good marketing. But validation plays an important role in regular list hygiene too.
So, even after cleaning your list, you may still have bounced messages. At this point, you can use the bounced manager in the Advanced Email Verifier to retrieve bounced emails from the server, save them to a file and then delete from your main list.
With that said, with the Advanced Email Verifier you get 2-in-1 software — email verifier and bounced manager — that ensures almost 100% accuracy in cleaning your mailing lists from bad addresses.
Try Before You Buy
We want you to get a good feel how the program works for you before you buy the license. Download the free demo version of our real email verifier, install it onto your computer and follow the steps from our video guide to get started.
The demo version has the following limitations:
1 internal list;
1 connection to an external database;
verifies 100 email addresses from the list and database;
custom fields in the list not available;
save and export options disabled;
bounced manager retrieves 20 bounce messages from the server.
At the same time the free demo version of the Advanced Email Verifier never expires and suits well for small email lists.

Get G-Lock Email Verifier for Free Today!
If you are getting too many bounce and undeliverable emails and being blocked as a result, G-Lock Email Verifier can help you clean your list from bad email addresses and invalid domains and increase your e-mail campaign performance by focusing only on REAL prospects… No Monthly Fees!
Average rating:
11 reviews
Feb 10, 2015
Excellent Product and 1st class support
This software is a must have in your emailing arsenal. It is simple to use but very powerful and the support is always available through live chat and very reponsive. Remote assitance is also provided when needed.