Seven Tips For Optimizing Email For Mobile

When crafting messages for campaigns you have to keep in mind that many of your recipients will be seeing them on a mobile device such as a cell phone.
As many as half of all emails may get their first looks from customers checking their email on their phones. That means the real estate available for verbiage and images is significantly less than a typical email read on laptops and desktops.
Exact Target's research shows more than 50 percent of readers open emails on mobile devices in the following industries: Educational services, banking, retail, real estate and utilities. And playing to the mobile audience matters. Marketing Sherpa reported that newsletters optimized for mobile devices saw a 53 percent increase in open rates.
How can you insure that whatever device your email gets read on will be legible, easy-to-read and digest and not lose its format?
Here are seven tips for improving your email campaign for mobile devices:
1 Use a responsive or scalable designs. HTML responsive design templates automatically adapt based on the device a recipient uses to read emails. It works best with templated emails because you don't have to code two different emails for recipients. HTML scalable designs adjust, with just one template, to whatever device the recipient is using.
G-Lock's EasyMail7 is supplied with a rich store of professionally designed responsive HTML email templates. If you want a beautiful design for your newsletter, just browse the store and download any templates you like. All templates are tested in different email applications.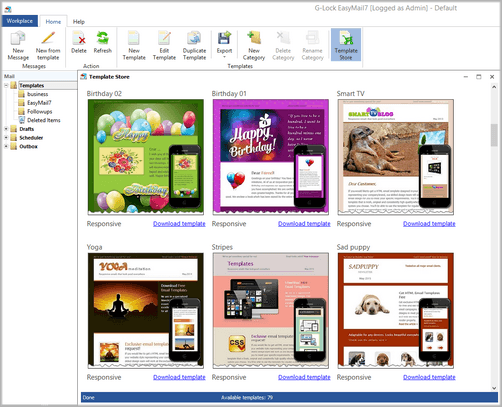 2 Make the design mobile friendly. Start with a one column email so users do not have to scroll left to read the whole message. Try a width that is 560 to 580 pixels and no larger.
3 Keep subject lines short. No rambling tell-everything subject lines allowed. Try 50 characters or fewer. Mobile readers will be thankful.
4 Be brief in the text. You can use your website for rich content but in the email text get to the point. Just as in writing subject lines when you get to your email text condense the message. A couple of brief paragraphs is enough for a strong pitch to get readers to your website.
5 Keep images small. Most email programs make users download images. That does not mean images should not be used, only that they should be rendered carefully. Try for low-count pixel images that still look good.
6 Think about text size and selection. Mobile email requires you to boost the size of fonts. Headlines should be 18-22 px, text at least 14 px. The following fonts are web friendly and be considered for any email campaign: Arial/Helvetica, Courier/Courier New, Georgia, Times/Times New Roman, Trebuchet MS, Verdana and Tahoma. Test your fonts on Android, Windows and Apple devices.
7 Finger size matters. People on mobile devices do not have mouses, they have fingers. Place links and buttons far enough apart and large enough that users can click on them without confusion.
The laptop and desktop are not things of the past. But mobile users are gaining in numbers and optimizing email campaigns for mobile to showcase your great products and services just makes sense.

Get G-Lock EasyMail7 for Free Today!
Send Email for FREE & Don't Put Your Business At Risk…
Don't put your profits in the hands of a third party, be in control of your email and either send email for free using your SMTP or use any number of third party email senders of your choice like AMAZON SES API… No Monthly Fees!
Average rating:
17 reviews
Nov 25, 2014
Use for many years
I have used several versions of EasyMail and recently upgraded my version to 7.0 and we bought several copies for the company I work for as well. The cost is very reasonable and the tech support is prompt. Updates arrive frequently.

I love the fact that my mass emails can be highly personalized and still look like regular emails, vs. emails from Constant Contact etc. I can also go into the HTML code and tweak things if they are not right. We use Amazon Web Service SES which is very affordable. A great product for those who have reasonable computer skills to set everything up.

Thank you G-Lock!

Martin Ucik,
President at singles2couples.org