How to Create an Email List
Creating and building an email list is an essential element in any successful business. Email offers an easy, inexpensive and efficient way to reach current and potential customers while building relationships with them that can last years.
People spend up to 50 percent of their internet time in their email inboxes, according to a 2012 study. More than 3.9 billion people have email accounts, which is more than all the social media platforms combined.
That's why email continues to be the marketing channel of choice for businesses, artists, non-profits and just about any other organization looking to grow. Here's a step-by-step method that should help you create an email list in just a few hours, and offer you a road map for adding names to it every day.
Buy a good email marketing program. G-Lock Software's EasyMail7 offers bulk-sender and list-management capabilities that allow you to easily create email messages and newsletters, as well as track the results.
Develop compelling content. To deliver relevant content on a regular basis without reinventing your format for every blast, you need an automated newsletter program.
Collect current email addresses. Gather email addresses of current customers and any names you have collected at trade shows, presentations, conferences and other activities you sponsor or participate in. Ask employees to add to the list.
Create opportunities on your website for opt-in communications. When people visit your website there should be an option on the front page to "Sign up for our newsletter" or "Sign up for great deals." Keep it on the screen above the fold since many people never scroll down to see what's below. Make sure to have the opt-in button on every page of your site. G-Lock's WPNewsman gives users opt-in sidebar widgets and forms, newsletter templates, customized Welcome email and Thank You pages, unsubscribe controls and many other features.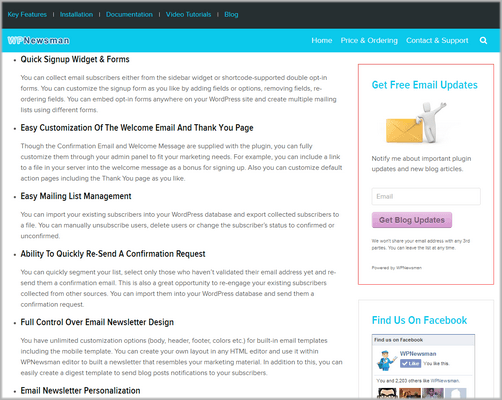 Add a section of social sharing buttons to all of your content. You want people to share your offers and newsletters widely, so make it easy for them to do so by having a spot at the top or the end of content where they can click to share via email, Facebook, Twitter and other social media. People reading that content can then circle back to your website and opt-in to your marketing channels.
Encourage email connections to your company in all collateral. If you use direct mail, ask recipients to go to your website or create a URL they can enter to sign up. A QR code can be added to all collateral – print brochures, newsletters, pitch letters – to capture more names.
Create online events to capture potential customers. Another way to continually build email lists is to host webinars, online contests and provide targeted newsletters. Make sure before anyone can participate that they have opted into your email subscription service.
Require email addresses to participate in targeted offers. Never give away offers or content for free. If you are promoting an e-book, a coupon or something on your Linkedin or Facebook business pages, require visitors to provide email addresses before receiving the offer.
These are just a few steps you can take to build email lists. As you move forward, you can refine those lists and create content and offers that focus on different market segments. The key is to keep at it, refresh content often and continue to try new ways to connect with potential customers.

Try G-Lock EasyMail7 for Free Today!
Еasily Create, Send and Schedule Promotions Emails, Newsletters or Invitations Your Customers Will Love.
Don't put your profits in the hands of a third party, be in control of your email — OWN YOUR DATA, OWN YOUR AUTORESPONDERS, CONTROL YOUR INBOX DELIVERY, REPUTATION, DELIVERY SPEED and either send email for free using your SMTP or use any number of third party email senders of your choice like AMAZON SES API… No Monthly Fees!
An effective email marketing system should include the following tools:
Automated email sequences that drip on your contacts over time to build trust and convert your subscribers into active and happy customers.
A email scheduler for planning your announcements, newsletters, and special occasion emails weeks or even months in advance.
A simple way for you to create sign-up forms so you can connect your marketing efforts to auto-populate your contact lists (we provide WPNewsman plugin for WordPress for free).
A professional collection of quality responsive HTML email templates that you can install and use for your newsletters on the fly.
An automated way of processing bounce and unsubscribe emails to be in compliance with the CAN-SPAM law in various countries.
Training and support from those who have years of experience in email marketing systems, management and success.
With G-Lock EasyMail7 you have the right email marketing system to help you maintain and grow your business.
Average rating:
17 reviews
Nov 25, 2014
Use for many years
I have used several versions of EasyMail and recently upgraded my version to 7.0 and we bought several copies for the company I work for as well. The cost is very reasonable and the tech support is prompt. Updates arrive frequently.

I love the fact that my mass emails can be highly personalized and still look like regular emails, vs. emails from Constant Contact etc. I can also go into the HTML code and tweak things if they are not right. We use Amazon Web Service SES which is very affordable. A great product for those who have reasonable computer skills to set everything up.

Thank you G-Lock!

Martin Ucik,
President at singles2couples.org