How to Create a Perfect Landing Page to Collect Subscribers
A landing page in online marketing helps tell your story and create a relationship with potential customers. It's where people who have clicked on your banner advertisement, email pitch or Facebook post will "land" to learn more about your business.
Landing pages are a huge part of any inbound marketing strategy, but one with a broken link, an insipid design or a poorly conceived offer will fail. A landing page that works correctly with a well-executed design and an offer that connects with the reader will draw repeated business.
G-Lock Software's WPNewsman offers a way to create landing sites for newsletters through design templates and subscriber list management. Developed for use in conjunction with WordPress, WPNewsman provides a simple way for you to stay in touch with clients who subscribe to your newsletters. You can place WPNewsman opt-in forms in widgets on the sidebar or use a shortcode and put the subscription form on any page, post or article on your site.
Now, to get a sense of what kinds of messaging works in a good landing page, let's look at one. The Star Tribune is the largest newspaper in Minnesota and the 12th largest in the nation. It offers a daily deal, like the one below.
It has all the elements of an excellent landing site, among them the following.
 Branding. The Star Tribune's logo sets off the site at the very top with the enticing question "Ready to Save." It's a colorful banner that also serves as a link to the landing page.
 A to-the-point offer. The headline of "50 percent off Green Fee with Cart…" is clear and concise while matching the original email language and layout. Consistency between the email and landing page designs are important for branding and for showing customers they have landed at the right site.
 A strong, appropriate image. Photographs and videos work on landing pages. For a golfer, this view looks particularly attractive and accentuates the dramatic and naturalistic setting of the course. When using videos, you can ask visitors first to submit emails before they can watch, which is yet another good way to capture subscribers.
 A good descriptive section. If pictures do not sell, words can. Under "Highlights," you'll learn the course is just four miles from Stillwater, which is a suburb of St. Paul, and that Wisconsin golfers rank it number one among classic courses. Golf Digest likes it, too, and there's a clubhouse (big surprise there).
 Bright colors that sell. The orange "Buy now" button invites – pushes, in fact – the interested readers to buy. Below that area is a ticker revealing how many days, hours and minutes until the deal lapses. The idea uses scarcity – it won't last forever – to move people to purchase the deal.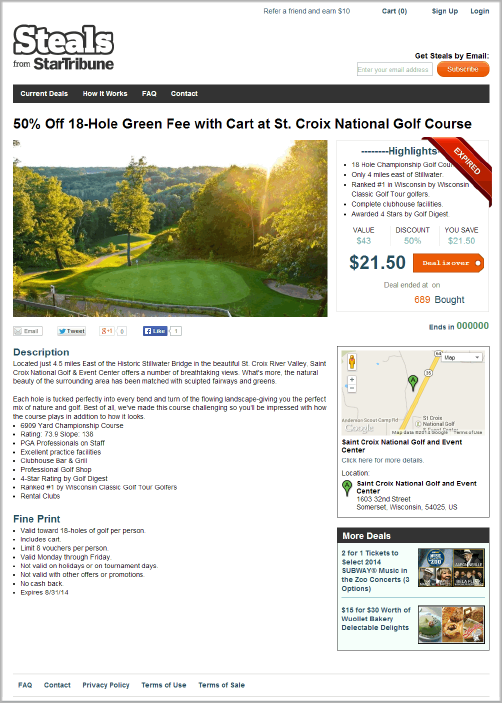 Colors that work together. A simple white backdrop, a black/white script tool box, a "subscribe" button you can't miss and the same color for the "buy now" button. There's even another offer to subscribe in the top-line navigation that simply says "Sign up."
 Additional deals. The golf deal looks pretty good, but if you "refer a friend" you'll add another $10 to your discount. Good landing pages focus on one deal before sliding in another to sweeten it up. The toolbox's "current deals" section promises other great offers, providing another reason to sign up.
The Star Tribune, of course, has a large budget for online marketing, and smaller businesses can still produce more modest landing page campaigns. If you fear bandwidth might squeeze your landing pages, skip the images and heavy graphics to avoid slow loading times.
Additionally, try using a variety of landing pages – having several tends to improve your chances of gaining subscribers.
Landing pages, like any part of a marketing campaign, will require effort and continuous re-imagining to keep subscribers interested in what you have to offer.

Try G-Lock EasyMail7 for Free Today!
Еasily Create, Send and Schedule Promotions Emails, Newsletters or Invitations Your Customers Will Love.
Don't put your profits in the hands of a third party, be in control of your email — OWN YOUR DATA, OWN YOUR AUTORESPONDERS, CONTROL YOUR INBOX DELIVERY, REPUTATION, DELIVERY SPEED and either send email for free using your SMTP or use any number of third party email senders of your choice like AMAZON SES API… No Monthly Fees!
An effective email marketing system should include the following tools:
Automated email sequences that drip on your contacts over time to build trust and convert your subscribers into active and happy customers.
A email scheduler for planning your announcements, newsletters, and special occasion emails weeks or even months in advance.
A simple way for you to create sign-up forms so you can connect your marketing efforts to auto-populate your contact lists (we provide WPNewsman plugin for WordPress for free).
A professional collection of quality responsive HTML email templates that you can install and use for your newsletters on the fly.
An automated way of processing bounce and unsubscribe emails to be in compliance with the CAN-SPAM law in various countries.
Training and support from those who have years of experience in email marketing systems, management and success.
With G-Lock EasyMail7 you have the right email marketing system to help you maintain and grow your business.
Average rating:
17 reviews
Nov 25, 2014
Use for many years
I have used several versions of EasyMail and recently upgraded my version to 7.0 and we bought several copies for the company I work for as well. The cost is very reasonable and the tech support is prompt. Updates arrive frequently.

I love the fact that my mass emails can be highly personalized and still look like regular emails, vs. emails from Constant Contact etc. I can also go into the HTML code and tweak things if they are not right. We use Amazon Web Service SES which is very affordable. A great product for those who have reasonable computer skills to set everything up.

Thank you G-Lock!

Martin Ucik,
President at singles2couples.org