12 Statistics On Email That Will Amaze You
Social media has been getting plenty of headlines as a growing platform for reaching people with products and services.
Yet its reach and effectiveness continue to pale in comparison with email. The quickest way to reach potential customers in a direct and personal way remains through the inbox. Even as mobile takes off, email remains the king of communications since all those people on all those devices are spending much of their time…reading their emails.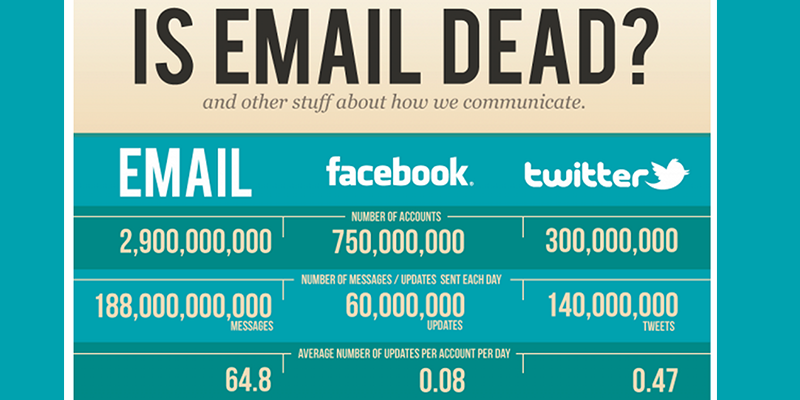 A few facts— 12 to be precise—reveal how email marketing's explosion continues unabated.
 Email kills social media. McKinsey & Co. found email is 40 times more effective in acquiring customers than Facebook or Twitter.
 More than 91 percent of Americans use email daily. That far surpasses Facebook or any other media platform, McKinsey reported.
 Email prompts higher purchases. An email is three times more likely to prompt a purchase than a social media message. On average, email-initiated purchases are 17 percent higher in value.
 Marketers prefer email. By a margin of more than 25 percent, marketers call the ROI of email "excellent" or "good," clearly trumping social media in a poll conducted by Ecoconsultancy. Studies show email continues to be the best method to acquire new leads – 88 percent cite email in one report.
 Customers act after receiving email. Harris Interactive found customers like receiving targeted emails, with 81 percent of digital shoppers reporting those messages made them more likely to make additional purchases while visiting brick-and-mortar or online stores.
 Mobile email works. Conversion rates are hard to come by, but Loyalty 360 found 36 percent of email mobile messages are opened.
 Email volume makes the numbers in the national deficit look small. Corporations globally send 354 billion messages daily.
 Spam isn't cheap. Sure, email has a downside. Corporations on average spend $3 million annually to fight spam, according to MarketingLand.com.
 Email has an astonishing return on investment. Experian reports every $1 invested email returns $44.25 altogether.
 Businesses love sharing email they like. The Ernest Agency reports 72 percent of B2B recipients are likely to share useful email.
 Email is the preferred marketing vehicle. Around 77 percent of one study's respondents say they prefer to receive marketing messaging via email.
 Email is still growing. Internationally Radicati reports email users grow 12 percent a year. That's a lot more potential customers!
Bounce around the web and you will read dozens more factoids that all reflect one clear reality – email, one of the oldest forms of digital communication, is still the most effective way to reach clients and prospects. So keep using it!
EasyMail7 will help you stay in touch with your clients, prospects, subscriber and future customers. Even if you have an existing autoresponder or email service, G-Lock EasyMail7 is a fantastic back up email system in case your service suffers any outages or suddenly decide to delete your account, ban you or just stop working for weeks at a time…

Get G-Lock EasyMail7 for Free Today!
Send Email for FREE or Pay-as-You Go…
Don't put your profits in the hands of a third party, be in control of your email and either send email for free using your SMTP or use any number of third party email senders of your choice like AMAZON SES API… No Monthly Fees!
Average rating:
17 reviews
Nov 25, 2014
Use for many years
I have used several versions of EasyMail and recently upgraded my version to 7.0 and we bought several copies for the company I work for as well. The cost is very reasonable and the tech support is prompt. Updates arrive frequently.

I love the fact that my mass emails can be highly personalized and still look like regular emails, vs. emails from Constant Contact etc. I can also go into the HTML code and tweak things if they are not right. We use Amazon Web Service SES which is very affordable. A great product for those who have reasonable computer skills to set everything up.

Thank you G-Lock!

Martin Ucik,
President at singles2couples.org