Six Ways to Integrate Social Media into Your Email Campaign
While email remains the primary vehicle for many companies to reach customers and prospects, social media has emerged as potent force.
Combining both platforms makes sense and it's not terribly difficult to leverage them together to reach the highest number of prospects. Doing so will take strategy and tactics that allow you to build upon each element of the campaign.
In a recent survey by Ascend2, marketers reported that 41 percent of marketers incorporated social media into their campaigns, ahead of blogs, direct mail and public relations.
That said, simply throwing content at social media and hoping it sticks probably isn't going to work. Rather, start with a strategy that considers who you want to target and where they hang out online. A contest may be better for Facebook, a more business-style approach likely fits with LinkedIn or Google+.
Here's a six-part game plan for you:
1 Establish a theme for your campaign. Every piece of content that goes out – from tweets to emails – should focus on the theme and a design you have established. Create a content plan, a directive that gives you a roadmap for when to use different social media channels in conjunction with email. (Email Tuesday/LinkedIn Wednesday, combined with Tweets, etc.)
2 Add social media icons to every email. Right at the top, next to your logo or headline, or at the bottom have a line of icons representing Facebook, Twitter, Instagram, Pinterest and any other platforms you find valuable. And that's the key – you don't have to link with every social media platform, only those most likely to engage with the customers you want to reach.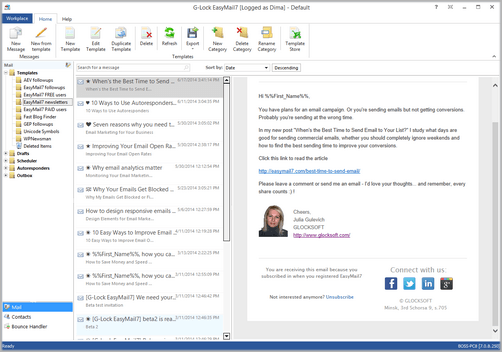 3 Link social media messages back to your website. Finished up a newsletter and want to let people know about it? Tweet it. Link to it on LinkedIn, of course. Post it on Facebook. Once users arrive at your website, offer them a splash ad to sign up for your newsletter by entering their email address.
4 Create a "retweet this" or "add this" in all emails and social media. This offers Twitter users a great opportunity to share your message with their followers.
5 Add websites links, Twitter handles and email addresses to all correspondence. Make certain your profiles on all platforms feature ways to reach you through social media, as well as a direct link to your website. Even your signature line on your mails should have social media links.
6 Offer discounts for sharing your email on social media platforms. Invite clients link to you on Facebook and like you. In return, offer them 5 or 10 percent off their next purchase.
G-Lock Software's EasyMail7 offers dozens of email templates that allow users to incorporate social media icons and links. In G-Lock EasyMail7 you can enter social links for each contact group and for the whole workplace. Group social links have priority. If they are not defined, the program uses social links defined for the workplace.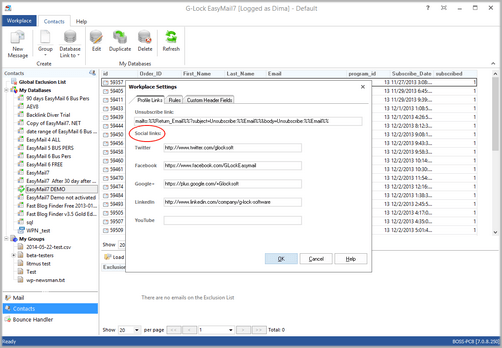 You enter social links only once and then erasily insert them into the message or template using the mail merge menu in EasyMail7.
You can capture data from EasyMail 7 to see which customers link to social media and then invite them to contact their circle of friends.
EasyMail7 will help you start using social media with many of your contacts, clients and future customers.

Get G-Lock EasyMail7 for Free Today!
Send Email for FREE or Pay-as-You Go…
Don't put your profits in the hands of a third party, be in control of your email and either send email for free using your SMTP or use any number of third party email senders of your choice like AMAZON SES API… No Monthly Fees!
Average rating:
17 reviews
Nov 25, 2014
Use for many years
I have used several versions of EasyMail and recently upgraded my version to 7.0 and we bought several copies for the company I work for as well. The cost is very reasonable and the tech support is prompt. Updates arrive frequently.

I love the fact that my mass emails can be highly personalized and still look like regular emails, vs. emails from Constant Contact etc. I can also go into the HTML code and tweak things if they are not right. We use Amazon Web Service SES which is very affordable. A great product for those who have reasonable computer skills to set everything up.

Thank you G-Lock!

Martin Ucik,
President at singles2couples.org