Email List Validation: Why is it Important for Email Marketing
The importance of email list validation can't be exaggerated. But it's often missed by businesses and individuals that go in for email marketing.
What does email validation mean? It's a process that verifies whether or not an email address is deliverable and valid. That is when you send an email message to a recipient, the message is actually delivered and does not bounce because of the invalid user.
Some marketers don't think bounce emails are a serious problem. However, it is. The primary reason why you should validate your email list is because the bounce rate directly affects your sender reputation.
Mailbox providers use a number of things to measure sender reputation. One of those things is the bounce rate. If someone used to send to a lot of invalid users, mailbox providers consider it as a poor list management and the sender as a potential spammer.
Your task is to prove that you are a legitimate sender. The first step to it is to validate your email leads.
Email Validation and Email Verification reduces bounce rates up to 98%:
1 You'll have a higher open rate and higher conversions.
2 You'll protect yourself from a lot of headaches with your email service provider like account suspension.
3 You'll increase your revenue while saving money by avoiding sending to invalid users.
4 You'll have a higher sender score and higher Inbox placement rate.
Read: Ultimate Guide to Cleaning Your Email List
Here is the correlation between the bounce rate, sender score and accepted rate provided by Return Path:
| Unknown User Rate | Sender Score | Accepted Rate |
| --- | --- | --- |
| 9,1% | 40-49 | 6,7% |
| 7,3% | 50-59 | 26,8% |
| 5,5% | 60-69 | 58,0% |
| 1,6% | 70-79 | 88,2% |
| 0,9% | 80-89 | 93,6% |
| 0,2% | 90-100 | 99,4% |
As you see, only the emails from the senders with a score 80-100 are routinely accepted. And according to Return Path, the average Inbox placement rate for the senders with the score 91 or higher is 88%.
To check your sender score, you can use the IP Monitor from GlockApps. Not only does it show your sender score, it also checks your sending IP against dozens of popular blacklists.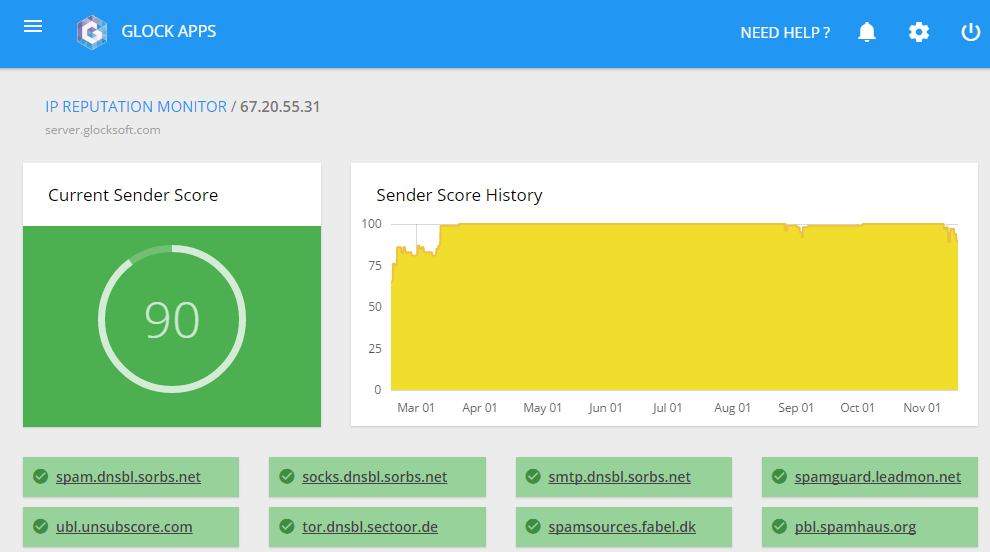 Read: How to Identify a Bad Email List and Convert It into a Good One
So, what types of email addresses should you remove from your list before you send your broadcast?
Here they are:
1. Bad Email Addresses or Non-Existent Email Accounts.
Invalid email addresses can slip into your list if you did not use a confirmed opt-in method. Using a single opt-in, people can mistype the email that is added to your list immediately without verification.
You can have invalid addresses if you leave your list "freeze." People can abandon email addresses. If you have not emailed to your list during the last 6-9 months, there is a chance that some of your leads are no longer valid.
If a user or mailbox does not exist, a message hard bounces. Hard bounce addresses are what you have to worry about because they are doing you more harm than good. If Internet service providers see that a lot of addresses are not receiving your emails, they'll filter your campaigns as spam.
You can use desktop free email verification software like G-Lock Email Verifier or online email verification services like BriteVerify, FreshAddress or DataValidation to determine invalid addresses on your list on a proactive basis.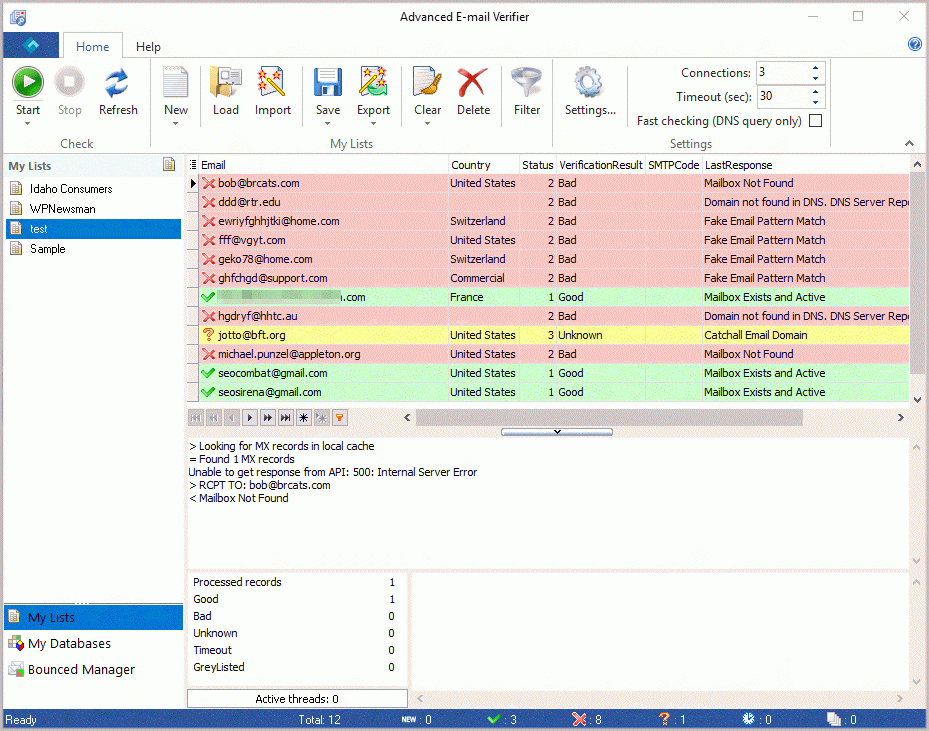 2. Misspelled Email Addresses.
Misspelled email addresses come from human errors and can dramatically increase your bounce rate. It's important that you spot and correct obvious misspellings like [email protected], [email protected], [email protected], or erick!yahoo.com.
To avoid misspelled addresses, use a confirmed opt-in process and require the subscriber to confirm their subscription by clicking the link in the confirmation email.
3. Distribution and Role Email Accounts.
There are email addresses associated with a specific department or function within an organization and that are intended only to receive messages related to that function. For example, "[email protected]" is the email address a company uses to receive email abuse reports, "[email protected]" is intended to receive only bounce email messages, "[email protected]" is for email notifications sent to the domain administrator, etc. etc.
Such accounts are not intended for personal use or subscriptions to email marketing communications. Thus, it's very unlikely that they can appear in someone's mailing list at the result of a subscription.
Role account addresses are often posted on public web pages and end up in master databases, which are sold to email marketers who are looking to build their lists faster than they could if they used a subscription process.
Some blacklists deliberately use role addresses as "honeypots" to trap spammers. Thus, these types of email addresses should be identified and removed from your mailing list before you hit the "Send" button.
Final thoughts:
When you continue sending emails to invalid addresses and getting bounces, your sender score is going down. The lower your sender score, the higher chances for your email to hit a spam folder instead of an Inbox.
If your emails are landing in the spam folders, your subscribers or even customers will not see them 9 times out of 10. If they don't see your emails, they don't take your offer – you're losing sales.
So, if you are not certain about your list validity for whatever reason, it's highly recommended that you validate your email list and suppress invalid addresses BEFORE you start sending email campaigns.

Get G-Lock Email Verifier for Free Today!
If you are getting too many bounce and undeliverable emails and being blocked as a result, G-Lock Email Verifier can help you clean your list from bad email addresses and invalid domains, increase your open rates and drive your revenue by focusing only on REAL prospects… No Monthly Fees!
Read: How to Build and Maintain a Clean and Valid Email List
Average rating:
11 reviews
Feb 10, 2015
Excellent Product and 1st class support
This software is a must have in your emailing arsenal. It is simple to use but very powerful and the support is always available through live chat and very reponsive. Remote assitance is also provided when needed.