Monitoring Your Email Marketing Campaign
Every email campaign requires real-time, follow-up analytics that can offer important data regarding just how well your messaging is working, or determine of the messages are missing the mark.
Without data, you know very little about which subject lines found an audience, the demographics of open rates, the users' predilection for forwarding your emails and other key metrics.
A good analytical package offers you in-depth data on your email marketing program, providing you with crucial insights into your customer base and showing you whether your offers have earned any traction. In email marketing, analytics are not something you might need; they are something you have to have.
Imagine a great analytics package with all the important elements you require. What attributes would it possess? Let's start with being able to access a real-time dashboard. You need a place where you can read, glimpse at or scan your emails and see how many times a marketing email was printed and/or forwarded. The analytics would reveal the email software a majority of your users employ to open email — Outlook, Gmail, AOL Mail and so on.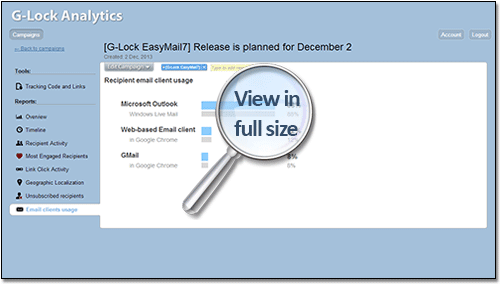 That information helps you optimize your design to ensure it looks good in the email programs most used by your prospects. The dashboard can let you know which customers forward or print your offers. You could then focus on those customers for future offers and reward them for spreading the word about your great products.
Timing is important in email marketing. Your analytics will tell you precisely when emails get opened. With that data you can hone in on different time slots and particular days of the week when your readers are most active and responsive. If open rates are greatest Tuesdays between 9 a.m. and 12 p.m. Eastern Standard Time, you may want to send more email in that slot.
The dashboard will reveal metrics on other issues. You can conduct A/B testing and try out different offers and subject lines with key audience segments. You can also gather information and begin to see patterns regarding which designs are trending best in open rates.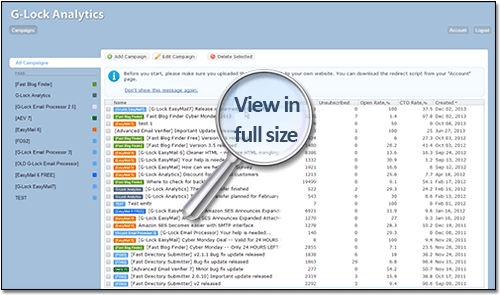 If you are getting a low open rate from campaign to campaign, test your email deliveribility. Create test accounts with all possible free ISP and send a copy of your email to your accounts before sending it to the list. See if your email arrived to the Inbox or spam folder.
If you're selling globally, you will want to know where your loyal customers live. Analytics should be able to tell you at the very least the countries in which your customers reside. This sort of data helps improve the focus of your pitches by allowing you to focus on the countries that are more receptive to your messages and offers.
Finally, unsubscribe management, which is part of a good analytics package, remains a big deal. You want to leave a good impression with people who want to unsubscribe because they may subscribe in the future, and ethical email practices require honoring unsubscribe demands.
G-Lock's Analytics solution provides all these services to clients as part of its suite of solutions that includes EasyMail7, Email Processor and WPNewsman Pro newsletter plugin for WordPress, that helps you collect subscribers at your website. Each solution complements EasyMail7. Together, they represent a cost-effective approach to creating an opt-in mailing list and sending bulk email and newsletters and contribute to the creation of a successful email campaign for you today.

Get G-Lock EasyMail7 for Free Today!
Send Email for FREE & Don't Put Your Business At Risk…
Don't put your profits in the hands of a third party, be in control of your email and either send email for free using your SMTP or use any number of third party email senders of your choice like AMAZON SES API… No Monthly Fees!
Average rating:
17 reviews
Nov 25, 2014
Use for many years
I have used several versions of EasyMail and recently upgraded my version to 7.0 and we bought several copies for the company I work for as well. The cost is very reasonable and the tech support is prompt. Updates arrive frequently.

I love the fact that my mass emails can be highly personalized and still look like regular emails, vs. emails from Constant Contact etc. I can also go into the HTML code and tweak things if they are not right. We use Amazon Web Service SES which is very affordable. A great product for those who have reasonable computer skills to set everything up.

Thank you G-Lock!

Martin Ucik,
President at singles2couples.org