We're Giving Away 4 Licenses for G-Lock EasyMail Business Edition
The giveaway is closed and the winners are picked. The following users will get the license for G-Lock EasyMail Business edition:
Roberto Rubin
Kumaran Balachandran
Ghosst My
Arora M P Singh
Plus, we would like to give the free license for G-Lock EasyMail Business edition to the user Omer Sharif Ibney Hai who was the first to take part in our giveaway and left a great comment on our site.
Our congratulations to the winners and Thanks to the rest for participating!
'G-Lock EasyMail Business Edition' software is used to create and send email campaigns at the user's desktop. People who want to have the complete package of features to manage their in-house mailing list, send personalized email newsletters, and process bounced emails install G-Lock EasyMail and use it for managing their email campaigns.
G-Lock EasyMail has no recurring fees and no limitations on the number of recipients which makes this software the most cost effective and popular among email marketers.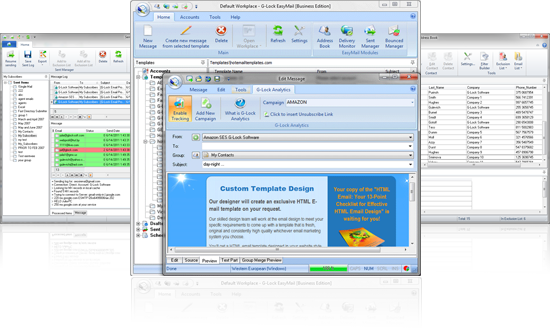 This giveaway begins on 05/29/2013 and ends on 06/05/2013.
How do you enter into this awesome giveaway?
Simply use the Rafflecopter widget below.
You MUST complete only one step — COMMENT on this blog post using the comment form at the bottom of this page and tell us how you expect to use our email marketing solution.
You will receive 10 entry points for this step.
But you also have the opportunity to receive MORE entry points by completing 3 optional steps:
Follow @glocksoft.com on Twitter: https://twitter.com/glocksoft
Like G-Lock EasyMail on Facebook: https://www.facebook.com/GLockEasymail
Tweet about this giveaway (this

can be done once a day each day of the giveaway… yes, you will receive 2 entry points each time you send the tweet 🙂 )
These 3 steps are not necessary, but if you want to do all of them then you'll have an even better chance at winning!
4 winners will be chosen in a random drawing through Rafflecopter from among all eligible entries received throughout the giveaway period. If you already own G-Lock EasyMail Business edition, you will have the opportunity to pick another G-Lock Software product.
We will notify the winners via email.
OK, that is all, good luck everyone!
Trackback from your site.