Best Mass Email Software for Businesses and Enterpreneurs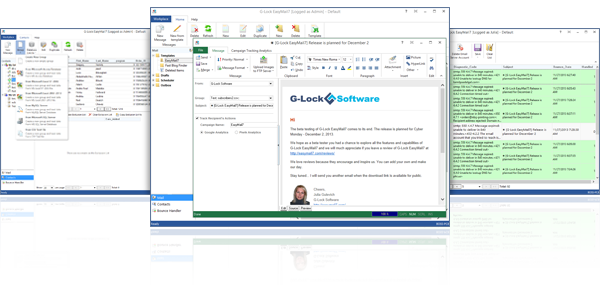 In these times many big and small companies are using mass emails as a successful marketing strategy. Firstly, it's because the total cost involved into creating and sending email newsletters is less than using other promotional channels. Secondly, businesses give preference to bulk email because they can send out email campaigns as frequently as they want. They also have the full control over the email sending process. For example, they can segment the full list into smaller lists by some criteria and send more relevant email newsletters to each segment. This way they ensure that each recipient gets the information he is interested in and is not showered with unwanted emails.
Some time ago, marketers could only use web based solutions to create and send email campaigns. But the main disadvantage of web based email services is that they charge a monthly fee depending on the number of recipients. Thus, you have to pay more and more as far as your mailing list is growing. Fortunately, now you can get the same features and functionalities using desktop mass email software instead of expensive web based services. Online businesses and entrepreneurs need fast, reliable and cost-effective bulk email marketing solution. That's why mass email program became an essential part of any email marketing campaign.
G-Lock Software provides you with the perfect bulk email sender software for permission based email marketing. G-Lock EasyMail7 was specifically developed to save your time and money and eliminate the complexity and expense of operating a third-party email service. Our popular mass email software is currently being used by thousands customers all over the world to create and send email newsletters, manage mailing lists and process bounce emails.
G-Lock EasyMail7 offers a complete email marketing solution. It is an easy-to-use, powerful yet cost-effective mass email software solution for Internet business professionals.
G-Lock EasyMail7 supports all the features and functionalities of the best mass email software for Windows. You can test G-Lock EasyMail7 trial version (up to 12,000 emails a month) during 14 days, and then you can switch to a paid version and benefit from email marketing:
Your mailing list and messages remain private and secured with G-Lock EasyMail7. After installing this mass email program to your own computer you don't share your subscribers with the 3rd party services. You take the full control over your mailing process.
G-Lock EasyMail7 can work with large mailing lists and does not limit you on the amount of email groups and email newsletters. You can import the contact information from various sources such as MS Excel, MS Access, CSV, Text files, and other databases. Plus, our mass email software can be integrated with CRM databases which means you don't need to export and import your list every time you need to send emails. G-Lock EasyMail7 automatically reads an up-to-date email list from your database once you setup the database connection.
With our bulk email sender you can create and send personalized email newsletters for building relationship with your subscribers. You can have unlimited custom fields in each group in G-Lock EasyMail7 and merge any of the fields into the message subject or body. While almost any email sender software supports email personalization, G-Lock EasyMail7 also allows you to send personalized attachments. Using merge tags you can tell the program to attach a unique file to each subscriber.
Since email marketers prefer HTML email newsletters, the support of HTML emails becomes a requirement for any good mass email software. Our mass email marketing program is supplied with a rich store of professionally designed HTML email templates that you can install and use to design your newsletters. There are many responsive email templates that look good in all email clients including mobile devices.
Our mass email program has the built-In FTP client which means you can upload pictures used in your message to your web server directly from G-Lock EasyMail7. The program will then automatically replace local paths of the images in the message with the paths on the web. This helps you decrease your message size, increase the sending speed and ensure the pictures will be displayed correctly within the message. Plus, you save your money if you send using a 3rd party service for example Amazon SES where they charge you for data transfer.
G-Lock EasyMail7 provides you a ready to use unsubscribe link that you can merge into the message. You can customize the unsubscribe link as you like and have different unsubscribe links for different groups.
G-Lock EasyMail7 has the built-in Bounce Manager which will always help you maintain your email lists clean. The Bounce Manager recognizes soft and hard bounce emails and extracts the email addresses from bounce messages. The Bounce Handler can automatically unsubscribe or delete bounce email addresses from internal groups. In addition, it can automatically update external databases,delete bounce emails from external databases and insert bounce emails into the database.
Our email blast software supports diverse sending modes. For example, it can send emails using your existing ISP SMTP settings, or through the Amazon SES API or SMTP. This flexible sending engine makes G-Lock EasyMail7 suitable for any marketer as it eliminates the need of having own SMTP server.
Using autoresponders in our G-Lock EasyMail7 email marketing program you can send automatic email campaigns to improve your reader's experience and convert prospects into customers. After you set up an autoresponder, you don't have to think about it again — G-Lock EasyMail7 makes sure your campaigns get to your subscribers right on time.
With that said, if you are an online business or entrepreneur who is looking for professional, high-quality mass mailing list software,
download G-Lock EasyMail7
. It is the best mass email program for a reasonable price and a good solution for those who want to have several working sending modes, HTML email support, free email templates, CRM database integration, bounce email manager and other features. Just read our
mass email software reviews
to know what other users say about G-Lock EasyMail7.

Get G-Lock EasyMail7 for Free Today!
Send Email for FREE & Don't Put Your Business At Risk…
Don't put your profits in the hands of a third party, be in control of your email and either send email for free using your SMTP or use any number of third party email senders of your choice like AMAZON SES API… No Monthly Fees!
Average rating:
17 reviews
Nov 25, 2014
Use for many years
I have used several versions of EasyMail and recently upgraded my version to 7.0 and we bought several copies for the company I work for as well. The cost is very reasonable and the tech support is prompt. Updates arrive frequently.

I love the fact that my mass emails can be highly personalized and still look like regular emails, vs. emails from Constant Contact etc. I can also go into the HTML code and tweak things if they are not right. We use Amazon Web Service SES which is very affordable. A great product for those who have reasonable computer skills to set everything up.

Thank you G-Lock!

Martin Ucik,
President at singles2couples.org