How to Test Email Delivery Duration

Every email marketer is interested in delivering their email messages to the recipient's Inbox. That's why G-Lock EasyMail7 has the capability to test the email placement and spam filtering before sending the email campaign. There are some email monitoring services that also allow to run email delivery tests, but they charge a fortune for it.
The email placement test reports whether the email was delivered to the Inbox or spam folder at different ISPs or whether it was filtered and blocked even before reaching the recipient's mailbox.
You can use
G-Lock Apps delivery and spam testing tools
to test your Inbox placement, spam scores, authentication issues, and delivery duration. G-Lock Apps also provides daily blacklist monitoring to check if your server's IP address is blacklisted and sends you summary email alerts if any problems are detected.
Testing where the message lands is a great opportunity to discover and fix deliverability issues on a proactive basis but it does not give the full picture of the deliverability effectiveness.
Knowing how much time the email takes to reach the recipient is also important because different email providers handle delivery differently. Some email providers will delay the delivery of emails when the volume passes a certain threshold.
This negatively affects the delivery of time sensitive emails such as promotional campaigns, important transaction emails, fix releases etc. It may happen that only a portion of your contact list will receive the time limited promotion or important update on time. The rest of the list will receive the email too late and the effectiveness of the promotion will be lost.
The delivery duration tracking helps email marketers determine if there is an issue with a particular ISP throttling and schedule the email campaign at the right time to get it delivered without a delay.
This is why we feel the delivery duration tracking does matter and we have included this metric into G-Lock Apps Inbox placement and spam filtering test. Below is a screenshot showing the data provided.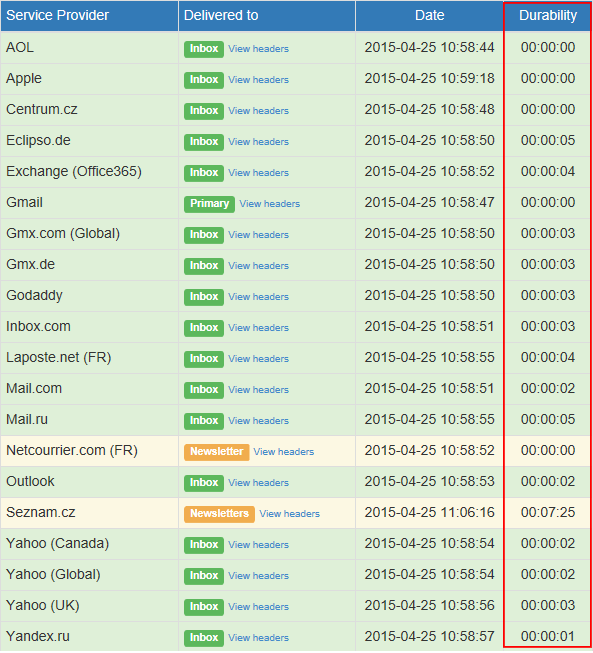 Next time you test your email placement before launching your email campaign, don't forget to look at the delivery duration.

Try G-Lock EasyMail7 for Free Today!
Send email with confidence…
Don't put your profits in the hands of a third party, be in control of your email — OWN YOUR DATA, OWN YOUR AUTORESPONDERS, CONTROL YOUR INBOX DELIVERY, REPUTATION, DELIVERY SPEED and either send email for free using your SMTP or use any number of third party email senders of your choice like AMAZON SES API… No Monthly Fees!
An effective email marketing system should include the following tools:
Automated email sequences that drip on your contacts over time to build trust and convert your subscribers into active and happy customers.
A email scheduler for planning your announcements, newsletters, and special occasion emails weeks or even months in advance.
A simple way for you to create sign-up forms so you can connect your marketing efforts to auto-populate your contact lists (we provide WPNewsman plugin for WordPress for free).
A professional collection of quality responsive HTML email templates that you can install and use for your newsletters on the fly.
An automated way of processing bounce and unsubscribe emails to be in compliance with the CAN-SPAM law in various countries.
Training and support from those who have years of experience in email marketing systems, management and success.
With G-Lock EasyMail7 you have the right email marketing system to help you maintain and grow your business.
Average rating:
17 reviews
Nov 25, 2014
Use for many years
I have used several versions of EasyMail and recently upgraded my version to 7.0 and we bought several copies for the company I work for as well. The cost is very reasonable and the tech support is prompt. Updates arrive frequently.

I love the fact that my mass emails can be highly personalized and still look like regular emails, vs. emails from Constant Contact etc. I can also go into the HTML code and tweak things if they are not right. We use Amazon Web Service SES which is very affordable. A great product for those who have reasonable computer skills to set everything up.

Thank you G-Lock!

Martin Ucik,
President at singles2couples.org