Newsletter Software for Small Business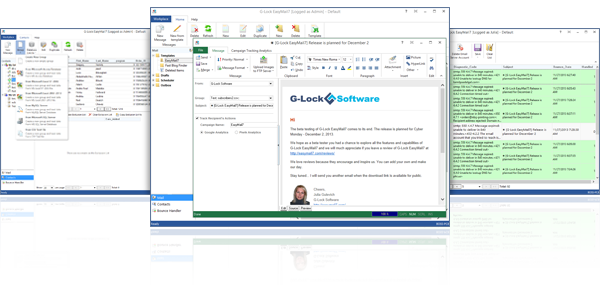 Get into more inboxes
Send better email newsletters, promote awesome products
Reduce costs
Send Emails via Amazon SES or in-house mail server without paying a per-email fee
Keep your subscribers data in house
Connect to a variety of CRM databases (without sharing your data)
Who Trusts EasyMail7 Email Newsletter Software to send awesome newsletters

If you are an online marketer, business owner or someone who is looking for creating your own email newsletter and sending it to your subscribers or clients, then you should be seeking for software to help you design and send newsletters. Certainly, preparing an email newsletter and delivering it to thousands of contacts one by one can be hard and time-consuming task. That is why you need newsletter sending software.
Using newsletter software you can deliver the newsletter to all your subscribers by only clicking the "Send" button. Newsletter software saves you a lot of time and helps you do your job in more efficient and professional manner.
While there are lots of newsletter software available on the online market, it is important that you choose the best newsletter software that will work for you today and will fulfill your marketing needs in the future. Using desktop newsletter software you will be able to maintain an in-house list and keep your contacts' email addresses private and secure on your own computer.
Send the email newsletters that people will open.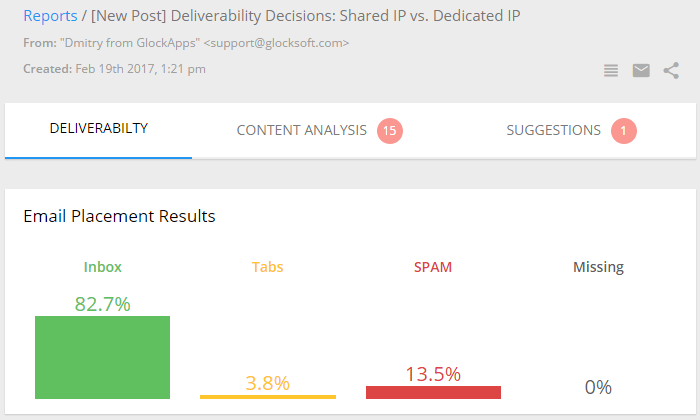 The best newsletter software working from your desktop is G-Lock EasyMail7. EasyMail7 makes newsletter creation and dissemination quick and easy and works well for big companies, small businesses, and individual marketers. While other cheap newsletter tools are very much alike, we put all our efforts to develop the best newsletter software. Here is why our Newsletter Software outperforms all other email programs in times.
Download Newsletter Software for FREE Today!
System requirements: Windows® 10, Windows® Server 2008/12+
EasyMail7 can work with large mailing lists. None of any competing cheap email tools can — they simply hang and do not response. Using G-Lock Newsletter Software you can upload a million emails into each internal group. And thanks to its unique capability — connect directly to your CRM database — you can send the newsletter to several million recipients and you don't need to worry about updating the contact information in G-Lock Newsletter Software groups. Once you setup a database connection, G-Lock Newsletter Software will always read an up-to-date contact list from your CRM database.
Popular CRM integration.
Any cheap newsletter sending program is not able to process bounce messages. G-Lock EasyMail7 recognizes many types of return messages including soft and hard bounce messages and sorts them for you. You can process returned emails after each campaign. The Bounce Handler can automatically unsubscribe or delete bounced email addresses from internal groups. In addition, it can automatically update external databases and delete bounce emails from external databases. This means that you can always maintain your lists clean preventing your IP address from being blocked by ISPs for continuous sending to bad addresses.
CAN-SPAM compliance, bounce and unsubscribe management is automated
As you know the unsubscribe link is a must-have in any marketing message you send. We observed that none of cheap sending tools provided users with then unsubscribe link compliant with CAN-SPAM laws. Commonly they link it to the mailto: email address. This means that the recipient has to click the link, type the email address he is subscribed with into the message body and then click "Send" in his client to send you the unsubscribe request. We think it's unprofessional, inconvenient and time-consuming. It's easier for the recipient to hit "this is spam" button. G-Lock Newsletter Software provides you a ready to use unsubscribe link that you can merge into the message. You can customize the unsubscribe link as you like and have different unsubscribe links for different groups.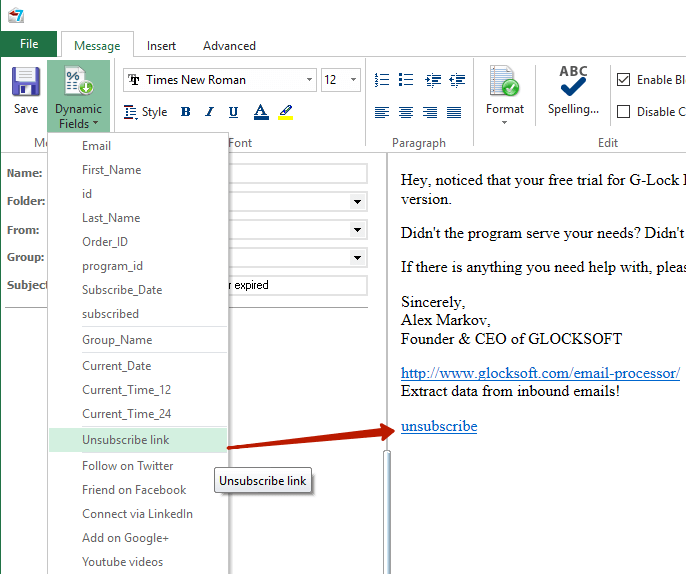 In addition to above, our newsletter software has a couple of unique features which you won't find in any competitor's tool:
integration with Amazon SES which means you don't need to look for your own SMTP server and don't need to worry about your ISP SMTP server sending restrictions;
support of personal attachments which means that using the mail merge tags you can attach a unique file to each recipient;
support of multiple users/workplaces within the program which means that several users can work with the program data (manage email lists, create and send messages) from different computers at the same time. This means you can send email campaigns for the 3rd parties maintaining a unique workplace for each of your clients (nice opportunity to make money!);
built-in FTP client which allows you to quickly upload images used in the message to your web server. This helps you decrease your message size, increase the sending speed and ensure the pictures will be displayed correctly within the message. Plus, you save your money if you send using a 3rd party service for example Amazon SES where they charge you for data transfer.
sending to multiple groups at the same time — to save your time when you need to send the same message to many groups of people, choose more than one group and click Send.
built-in email templates store – our email marketing software has a rich collection of free HTML email templates so you save your time for creating a HTML email newsletter [just pick the desired template, download it and add your content].
Integration with email tracking service G-Lock Analytics [the price for G-Lock Analytics is NOT included into the price for EasyMail7 Newsletter Software license] — you'll see who opened your email and clicked the links in the email in real time! You can collect unsubscribers directly to your analytics account.
Bounce email management — G-Lock Newsletter Software recognizes many types of return messages including soft and hard bounce messages and can automatically unsubscribe or delete bounce email addresses from internal groups. In addition, it can automatically update external databases and delete bounce emails from external databases. So, you can keep your list up-to-date, prevent your IP from being blacklisted, protect your good sender reputation, and increase the speed of sending for future email campaigns

Get Newsletter Software for Free Today!
Send Email for FREE & Don't Put Your Business At Risk…
Don't put your profits in the hands of a third party, be in control of your email and either send email for free using your SMTP or use any number of third party email senders of your choice like AMAZON SES API… No Monthly Fees!
Download Newsletter Software for FREE Today! →
System requirements: Windows® 10, Windows® Server 2008/12+
Average rating:
17 reviews
Nov 25, 2014
Use for many years
I have used several versions of EasyMail and recently upgraded my version to 7.0 and we bought several copies for the company I work for as well. The cost is very reasonable and the tech support is prompt. Updates arrive frequently.

I love the fact that my mass emails can be highly personalized and still look like regular emails, vs. emails from Constant Contact etc. I can also go into the HTML code and tweak things if they are not right. We use Amazon Web Service SES which is very affordable. A great product for those who have reasonable computer skills to set everything up.

Thank you G-Lock!

Martin Ucik,
President at singles2couples.org
Further reading: