Bulk Email Marketing Software for Business
G-Lock Software, a leading internet software company recognized for their commitment to creating highly innovative, reliable and affordable products for businesses of all sizes, is pleased to announce that they have developed a new email marketing solution for Windows. G-Lock Software provides you with the unique bulk email marketing software for permission based email marketing. G-Lock EasyMail7 was specifically developed to save your time and money and eliminate the complexity and expense of operating a third-party email service and outdated mass email tools. It gives you the competitive advantage to boost online sales through email marketing without the high costs.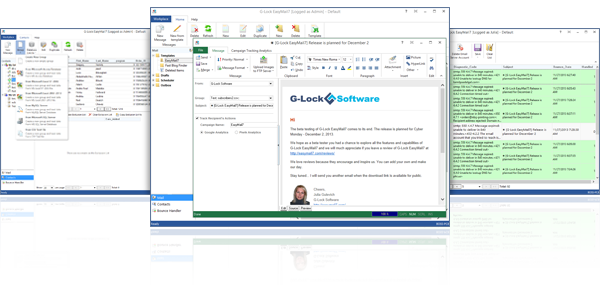 G-Lock's EasyMail7 is built on the client-server model. Users can install EasyMail7 Server on a local computer or a Windows Server 2008/2012, Amazon EC2 or Windows Azure Virtual Machine. All data including email lists and messages is stored on the EasyMail7 Server so users don't have to upload their contact lists to a third party email service.
EasyMail7 Client can be installed on any number of computers anywhere. Users can work on projects simultaneously from different computers and send email campaigns from any place in the world by simply logging onto the EasyMail7 Server through the Client.
"I really like the new look and feel. Everything was easy to setup and get started. Importing is a snap and everything is in one place instead of in several different programs. Thanks for continuing to give us first class tools for managing our business and for staying ahead of the curve," – a testimonial from the EasyMail7 website stated.
EasyMail7 is a state-of-the-art newsletter system that is capable of carrying out much more sophisticated tasks than the other outdated bulk email programs currently available, because it is highly flexible and much more amenable to the needs of a variety of clients. EasyMail7 features unlimited custom fields in the contact list for greater email personalization, and the software allows clients to fully design their own lists, data and newsletters to perfectly conform to the needs of any business.
Anyone interested in learning more about the benefits of using EasyMail7 for email marketing is encouraged to download the free version at this page http://easymail7.com/downloads/.The free version is limited to send 250 emails per hour and 12 000 emails per month and never expires. Users can stay with the free version of G-Lock EasyMail7 while they are building up numbers and loyalty, and they can switch to a paid version later, when they have a big enough list.
G-Lock Software provides a set of comprehensive tutorials to help users experience all the EasyMail7 features and capabilities at http://easymail7.com/tutorials/.
The pricing for EasyMail7 depends on the number of users and workplaces the user can create within the program rather than on features and number of subscribers, which makes EasyMail7 more affordable than other list management programs and services. G-Lock Software does not attempt to upsell customers to more expensive licenses in order to access specific features. Users can be assured that whatever size of business they have and whatever paid license they purchased, they will always have access to all the EasyMail7 features and options. More information about the license model and pricing can be found at http://easymail7.com/price-ordering/.
About G-Lock Software:
G-Lock Software is a privately held company working in different programming environments. The company's team has over 10 years experience developing email marketing software solutions and has used that knowledge and experience to create innovative, flexible, and affordable products that are used by thousands of businesses, large and small, in all parts of the world. Among its major products are G-Lock EasyMail7 bulk email sender and newsletter software, G-Lock Analytics real time email tracking system, Advanced Email Verifier email list cleaner and verification software, G-Lock Email Processor advanced email processing and parsing software, G-Lock WPNewsman newsletter plugin, Fast Directory Submitter directory submission tool for creating permanent one-way backlinks, Fast Blog Finder blog commenting software, and Backlink Diver link verifier and PageRank checker tool. For more information, please visit http://www.glocksoft.com.