7 Quick Tips for a Perfect Welcome Message
One of the easiest ways to dramatically impact your conversion rate is to engage with your users in a way that brings them back to your website. And one of the best ways to obtain permission to contact them via email is through an opt-in form on your website. After they subscribed, the very first email they receive from you is the welcome email. The impression your welcome email makes is very important because it introduces the subscriber into your company and to some extent determines how long they will stay with you.
Check the list below and make sure your welcome message includes these 7 "must-have" things:
1 "Hi John"! The salutation seems to be an obvious thing, however some email marketers often ignore it. On my opinion you can omit the salutation in your future emails [for example, if you send the newsletter every 2-3 days] but not in the welcome message. If you collect the subscribers' first names, personalize it with the subscriber's first name. This demonstrates your respect towards the subscriber and sets their mind to the long term relationship with you.
2 Subscription reminder. People may subscribe for email newsletters at different sites and/or buy products in different online stores. With time, it's hard to remember all the sources they may expect receive the emails from. To avoid any confusion that may lead to an unsubscribe request or spam complaint, include a short reminder why you have the right to send them emails.
3 Email frequency. Tell them how often they should expect emails from you. By setting up your email frequency in advance you make one step forward to minimizing your unsubscribe and spam complaint rate. They may be unpleasantly surprised when you start bombarding them with your follow-ups every single day. To avoid the subscribers' irritation, prepare them in your welcome message.
4 Whitelist request. To ensure your email newsletters will reach the subscribers, ask them to add your email address to their address book or safe sender list. This also helps them immediately see the images you may send in your emails instead of having to download the images manually.
5 Unsubscribe/update profile link. Let them easily unsubscribe from your list. Include the unsubscribe link either in the body of the welcome message or in the footer. If you choose to place the opt-out link in the footer, make sure it can be easily found there. A good idea is to let them update their profile (email address, name, and other personal information they gave you while subscribing) themselves in case they change the email address, or want to transfer the subscription to someone else. You can provide them with one link and call it "Modify your subscription", or "Manage your subscription" or the like. By clicking on that link the subscriber will have a choice to unsubscribe or update their profile with you.
6 Incentive to stay on your list. In addition to providing them with the content they subscribed for (download, PDF, e-book or whatever you offer), give them an incentive to crave for your future emails. You may tell them about a subscriber-only offer that you will include in one of your follow-ups, or drop a hint about what they will receive in your next email to keep them intrigued.
7 Signature with your real name. Make the subscriber feel like a real person is talking to them and if possible insert a real contact name into your signature.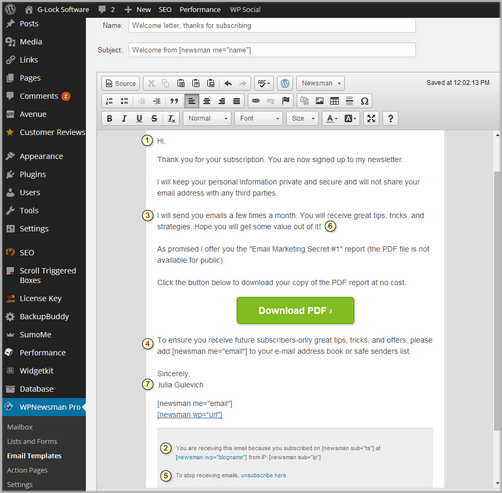 The last step for a good welcome message is testing. Remember that you cannot welcome the subscriber twice. So, go to your website and subscribe. See how your welcome message looks like when received. Test your welcome message in all email clients, web mail accounts and mobile devices you can to make sure it displays well for everyone.

Get G-Lock EasyMail7 for Free Today!
Ready to jump-start email marketing and grow your online business?

Download our G-Lock EasyMail7 today – unique newsletter and autoresponder system, bulk sender & list management software – which provides you a convenient and easy way to be in touch with your clients, prospects and subscribers without high costs and expensive 3rd party monthly plans.
Average rating:
17 reviews
Nov 25, 2014
Use for many years
I have used several versions of EasyMail and recently upgraded my version to 7.0 and we bought several copies for the company I work for as well. The cost is very reasonable and the tech support is prompt. Updates arrive frequently.

I love the fact that my mass emails can be highly personalized and still look like regular emails, vs. emails from Constant Contact etc. I can also go into the HTML code and tweak things if they are not right. We use Amazon Web Service SES which is very affordable. A great product for those who have reasonable computer skills to set everything up.

Thank you G-Lock!

Martin Ucik,
President at singles2couples.org