10 Ways to Use Autoresponders To Drive Traffic and Increase Your Business Income
Autoresponders send messages to subscribers and customers based on dates or events.
When someone signs up for your newsletter or email program, you can program an "autoresponder" to send a message in return. Autoresponders can also be used for birthday greetings and other important anniversaries.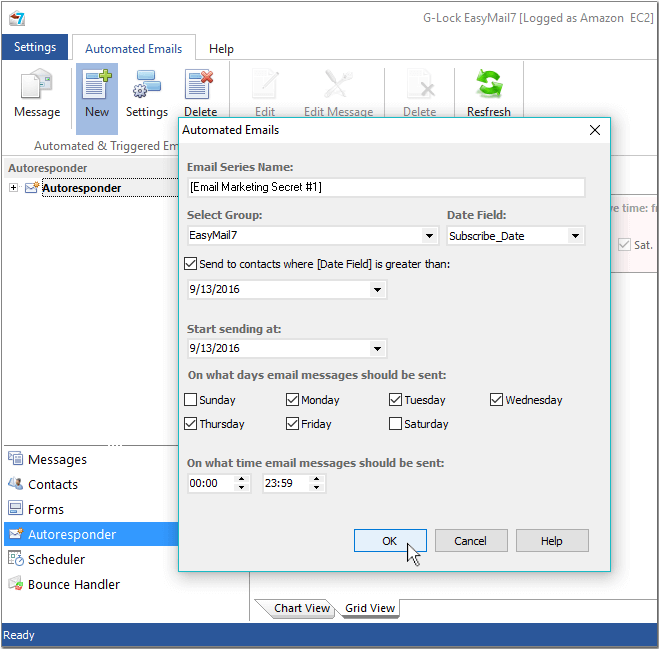 Think of autoresponders as a messaging platform, a place to introduce yourself and your services when readers sign up and to offer them occasional greetings. Here's 10 ways to effectively employ autoresponders.
1 Share older content. Show off the best of your blog posts, articles and other content when subscribers first sign up for your newsletter and website. Tailor it to their interests and deliver information such as case studies over a period of time, often enough so that customers may decide to purchase something after a third or fourth contact.
2 Give a test-drive or mini education course. This provides customers with a test-drive through your website or product lines. A little education can highlight the sector or category you operate in.
3 Training. Once a customer buys a product, you can add training videos or tutorials to help customers get the most out of their purchase.
4 Deliver an ebook over several emails. Rather than give subscribers all of your content at once, break it up into modules to keep them interested.
5 Product promotion. Use a message to promote your products and add a subscriber-only coupon they can download for a deal. That approach can help increase subscriptions and sales.
6 Upselling. Once you make a sale, the best time to earn a second one usually comes within just a couple of weeks. Follow up purchases with a thank-you email and suggest a few product offers that work in conjunction with the products they have purchased.
7 Automatic follow-up after sales. Autoreponders can be used to ask for feedback on products, the sales experience and whether service levels were met.
8 Promote affiliate products. Resell another product or service? Want to promote products you like from other vendors? An autoresponder is a great way to reach out and resell or recommend products to your followers.
9 Surveys. One way to keep your email list engaged is by using surveys. They help you refine your content and product pitch, and they attract plenty of interest from recipients. Use an autoresponder after a customer buys a product to ask if it's working and how the process went.
10 Reminders. Use autoresponders to get in touch with inactive customers or to remind them their subscriptions are about to lapse.
There's plenty more autoresponders can do, although take care not to overdue it. They are easy to set up in G-Lock Software's EasyMail7. In just a few minutes, you can program it to say thanks after a sale, send birthday greetings, distribute surveys, provide reminders and many other notices.
Is it time for your first autoresponder message?
Using autoresponders in G-Lock EasyMail7 you can setup an email-based course for your contacts. For example, you can create a series of autoresponders containing unique content and schedule the first one to go out immediately or in a few hours/days after the subscriber was added to your list or after any period of time has passed, the second – in 48 hours after the first one, the third – in 72 after the second one etc.

Get G-Lock EasyMail7 for Free Today!
Send Email for FREE or Pay-as-You Go…
Don't put your profits in the hands of a third party, be in control of your email and either send email for free using your SMTP or use any number of third party email senders of your choice like AMAZON SES API… No Monthly Fees!
Average rating:
17 reviews
Nov 25, 2014
Use for many years
I have used several versions of EasyMail and recently upgraded my version to 7.0 and we bought several copies for the company I work for as well. The cost is very reasonable and the tech support is prompt. Updates arrive frequently.

I love the fact that my mass emails can be highly personalized and still look like regular emails, vs. emails from Constant Contact etc. I can also go into the HTML code and tweak things if they are not right. We use Amazon Web Service SES which is very affordable. A great product for those who have reasonable computer skills to set everything up.

Thank you G-Lock!

Martin Ucik,
President at singles2couples.org