How to Turn Your Email List into Revenue
There is a particular kind of power when you are able to write an email, click "Send" and watch sales coming. It's truly an extraordinary skill and when you have this skill when you have this knowledge, then you just have a different feeling, you're a different person. And it doesn't matter how big your list is. Even if you don't have a list at all yet, having this skill is going to give you an incredible sense of power and really is going to change your approach to how to turn your subscribers into revenue. So, let's start diving into the process itself.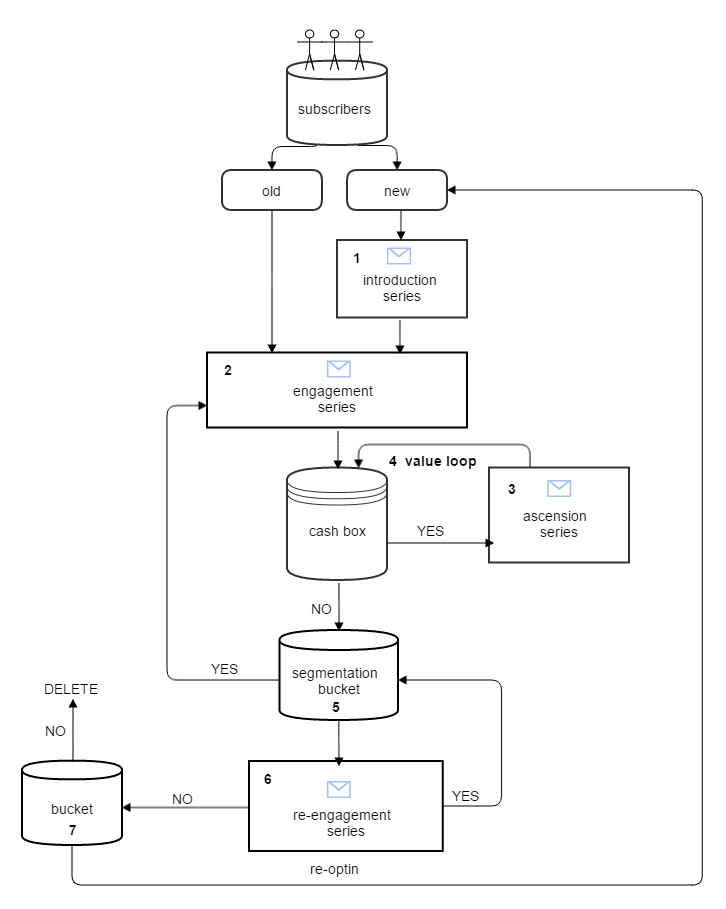 1. Introduction series.
Imagine a big hopper or a big basket. This is where all your subscribers are coming in. They can be opting in for your newsletter, they can be opting in for a special report, video or download, but they are being attracted by some lead magnet, by some type of value you're offering in exchange for their email address and permission to continue to communicate with them.
So, the subscribers are coming in and the first step of the process is to determine: is this an old lead or is this a new lead? Probably you're sending an engagement-based segmentation series to your list where you're asking people to re-opt in to get to a new engagement segment, so you have to know if this person is brand new or somebody who already knows you, who is already on your list for months, years, whatever. That's the first thing to identify. This doesn't require a complex coding or software. Any email service provider or autoresponder will do this for you and will be able to say if this person is new or is already on your list.
Let's assume the subscriber is brand new. Your email service provider didn't recognize the email address and identified it as new. New subscribers go to the introduction series. The job of this particular series is to introduce the subscriber into your brand, your company, your business. It's just a 2-3 email series where you welcome them, show them your best stuff, and show a little more of your personality. You can endear yourself to them, you can tell some stories, you can tell them about the origin of your company and your brand. This is what it's all about.
Often times people say: "I have a massive subscriber list, I was able to drive a ton leads, but nobody opens my emails. They aren't subscribing to other things, they aren't buying my products." It's because you've never engaged them and introduced them into what you are about, what your brand is about. That's the role of the 2-3 days introduction series.
2. Engagement series.
After new leads pass through the introduction series, they are dropped into the engagement series. And old leads who are already on your list go straight to the engagement series bypassing the introduction series. You don't have to re-indoctrinate them to who you are and to what your brand is. They already know that. So, you have both new and old subscribers in the engagement series. What is an engagement series?
While the introduction series is focused on you, your company, your brand and your biggest accomplishments, the engagement series is all about the lead magnet brought to them, all about the topic. You spend 2, 3, 5, … 14 days just talking about the same thing. The primary goal of the engagement series is to get them to buy something. All you want to do at this step is to sell them a product or a service. The engagement series is trying to get them to go and buy.
If they go into the engagement series, they eventually go into the cash box and they buy. Everybody is happy.
3. Ascension series.
After they buy, they pass to the ascension series. The ascension series is just for buyers. The job of this series is to ascend them as a buyer, to ascend them as a customer. They've just bought this one thing, now what is the most relevant offer you should make to them?
Many people say: "I have one product. So, I don't need an ascension series". Of course, that's not true. While you may have only one product, surely there are joint venture partners or affiliates who have relevant products that your customers would be interested in. So, the ascension series is about trying to get them to buy other products from you or other people's products. A buyer is good, a multi-buyer is better.
4. Value loop.
Right from the ascension series, they can be put back into the cash box and if they buy, they go into another ascension series. This process of going from an ascension series to the cash box, from the cash box to the ascension series etc. is called a value loop because you're delivering a value to them, they're delivering a value to you in a form of money, you're delivering a value to them in a form of a product or service that they're liking and coming back saying: "I wanna do more of this, so gimme more".
If you're providing value to your customers and clients in the form of excellent products or services, they're going to continue giving you money for as long as you have things to sell, for as long as you're providing value. So, that's how the value loop happens.
How many times can the buyer go through the value loop? Probably at one point it's going to phase out. You send them an offer, they say: "No, I'm just not interested in buying that". And the ascension series is going to end and through the cash box they're going to fall into your segmentation bucket.
5. Segmentation bucket.
The segmentation bucket is great. They're going to get your segmentation series. As they're not completely dis-engaged with you, maybe something funny you send them one day hits right and they say: "Cool, this is for me!" When this happens, they hop out of the segmentation bucket and go to the engagement series. They're-opting in for a new engagement series, for a new lead magnet in which case you're going to talk to them about that, you're going to try to sell them another product moving them to the ascension series and value loop again. If they don't buy, you just put them into the segmentation bucket. That's it.
They will stay in the segmentation bucket; and maybe the next week, they will get into a new engagement series, or maybe they will stay a month or two months without getting into the engagement series. But they're still opening your emails, they're still clicking on links, they're still engaged with your content.
But what happens if they stop doing that? At that point, they have become disengaged. They're no longer engaged with you and your brand. And if this goes on for 60 days (that's the rule), you can declare them to be disengaged. It's not if they haven't bought, it's not if they haven't re-opted in, it's if they haven't been opening the emails. If that happens, if they haven't been opening the emails for 60 days, they fall down through the segmentation bucket into a re-engagement series.
6. Re-engagement series.
A re-engagement series is where people go when they've stopped paying attention to you. At this point you're going to get to them and say: "Hey, are you still there?"
You'll want to put them into a 15-day re-engagement series asking what you did wrong, deploying a little more of your personality, sending them great free stuff you know they're going to like — a form of re-introduction series.
And the goal of this is to get them back to the segmentation bucket where they will be popping around excited and engaged with you and your content with the hope to drive them back to the engagement series.
What happens if they haven't opened anything for 60 days? They go to a complex and really powerful re-engagement series and they still aren't opening, they still aren't clicking. Then, what happens? What do you do? You put them into "the bucket".
7. "The Bucket".
It doesn't mean you need to completely delete them from your list. You can simply put them on a whole different list or move them to an entirely different email service provider. The idea is to get them away of your primary list. And the reason is quite straightforward. This actually impacts deliverability. If a massive chunk of your email list is not opening and not engaging with your emails, the ISP know that. They have algorithms that can tell them if you hit the Inbox and, in case of Gmail, if you hit the Primary Inbox or Promotions folder.
If the subscribers are not engaged with your emails, if they are not opening and not clicking, and if a massive segment — 50%, 60% or 70% — of your list is not opening your emails, the Yahoo, the Gmail, the MSN know that and say: "This person is just a spammer". So, you have to get them off of your list. What do you do with the bucket? You can just delete them or move them to a different email service provider and send them other offers.
But first, you'll want to send them to a squeeze page to re-opt in. You have to make them re-opt into new lists because just about every ESP — Aweber, MailChimp, ConstantContact, iContact etc. — sees if somebody subscribed to this particular list, do not send them other broadcasts.
And if they do that and re-opt in, they become… a new lead. They are no longer on the list, they have to go through the introduction series as if they've never heard of you before because to a great extent they are not engaged anymore.
One of the most important metrics when it comes to this business is what percentage of the list is in the engagement series or in an ascension series as opposed to the segmentation bucket or re-engagement series. You can look at this metric and see how many people are in the engagement series and what engagement series they are in. You can have multiple products, multiple engagement series going out all of them making specific offers, all of them generating revenue and all that happening on auto-pilot. So, that's the process. That's the ultimate power of email marketing.

Try G-Lock EasyMail7 for Free Today!
Еasily Create, Send and Schedule Promotions Emails, Newsletters or Invitations Your Customers Will Love.
Don't put your profits in the hands of a third party, be in control of your email — OWN YOUR DATA, OWN YOUR AUTORESPONDERS, CONTROL YOUR INBOX DELIVERY, REPUTATION, DELIVERY SPEED and either send email for free using your SMTP or use any number of third party email senders of your choice like AMAZON SES API… No Monthly Fees!
An effective email marketing system should include the following tools:
Automated email sequences that drip on your contacts over time to build trust and convert your subscribers into active and happy customers.
An email scheduler for planning your announcements, newsletters, and special occasion emails weeks or even months in advance.
A simple way for you to create sign-up forms so you can connect your marketing efforts to auto-populate your contact lists (we provide WPNewsman plugin for WordPress for free).
A professional collection of quality responsive HTML email templates that you can install and use for your newsletters on the fly.
An automated way of processing bounce and unsubscribe emails to be in compliance with the CAN-SPAM law in various countries.
Training and support from those who have years of experience in email marketing systems, management and success.
With G-Lock EasyMail7 you have the right email marketing system to help you maintain and grow your business.
Average rating:
17 reviews
Nov 25, 2014
Use for many years
I have used several versions of EasyMail and recently upgraded my version to 7.0 and we bought several copies for the company I work for as well. The cost is very reasonable and the tech support is prompt. Updates arrive frequently.

I love the fact that my mass emails can be highly personalized and still look like regular emails, vs. emails from Constant Contact etc. I can also go into the HTML code and tweak things if they are not right. We use Amazon Web Service SES which is very affordable. A great product for those who have reasonable computer skills to set everything up.

Thank you G-Lock!

Martin Ucik,
President at singles2couples.org