G-Lock Software Backlinks Diver
Backlink popularity is one of the factors that search engines use to rank websites. The importance of your website in the eyes of search engines grows as far as the number of backlinks grows. A smart choice of link building methods produces great results — higher website rankings and more targeted visitor traffic.
But links appear and die. It's normal that the number and quality of backlinks to the site change with time. To be on top in search engine rankings, you have to keep an eye on your existing backlinks and know what is happening to them now. Knowing your backlinks status, you'll understand when you need to include link building into your SEO plan to boost your website ranking.
You probably own a tool that builds links and need to check how many links to your website exist on the sites you've just submitted to. When far more important tasks need your attention, the last thing you want to do is spend hours manually opening each page in the browser and check if the backlink is still there. A good link checker tool can do the job of backlink checker and PageRank checker for you, giving you more time for your business tasks.
So, you can spend big bucks and countless hours monitoring your backlinks manually… or you can use the most powerful backlink checker tool on the web…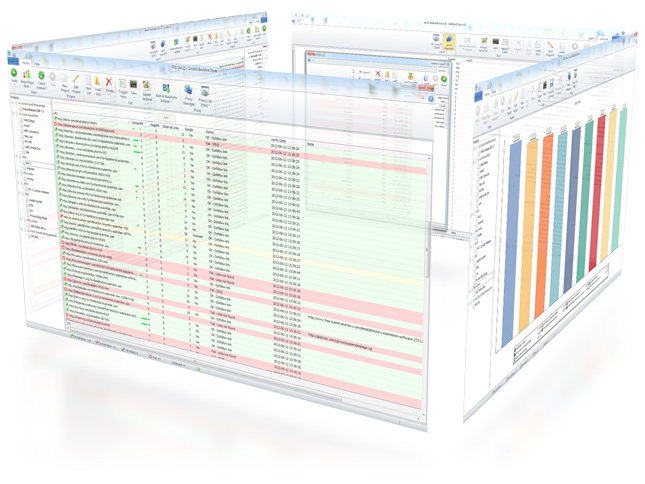 Use BackLink Diver to Track the Presence and Quality of Your Backlinks
Providing that many people use various link building tools to get backlinks and want to know if their backlinks remain live and valuable over time, we've come up with a great piece of software called BackLink Diver.
BackLink Diver is for everyone who wants to see where his site is currently listed and control the SEO quality of pages linking to the site. BackLink Diver will parse a list of URL's and tell you if your link is still on the page providing you with a fast analysis of your linking profile. This information is important if you plan to remain in the top search engine results for your targeted keywords. The tool will also run a PageRank checker to see how valuable the pages linking to you are.
You can pay for a Backlinking Service and get a report with thousands of URL's. I bet you don't parse a thousand pages manually to make sure your link is alive on each page. You check a dozen or two random URL's and leave it as is assuming you got what you paid for. Our Backlink Diver eliminates the doubt of whether a particular page is linking to your site or not and delivers you a detailed report about your backlinking profile in minutes.
With this little backlink checker tool you can check:
if a link to your website is present on a particular page
when the link is present, if it's DoFollow or NoFollow
what the anchor text and URL of the link are
The PageRank checker feature will tell you what the PageRank of the page where the link is present is and what the PageRank of the domain linking page is
how many external links are on the page
if the page linking to your site is indexed by Google or not [a website can set up a robot's meta tag to tell search engines not to crawl/index the page with your links. Moreover, content can be cloaked or generated on the fly by scripts that run at the time the webpage is loading. This content is usually not indexed by search engines]
Download Backlink Diver Trial Version Now!
and that's not all…
What else can you do with Backlink Diver? Keep reading below:
search for your link on the page either by domains or keywords in the link anchor text
manage as many projects as you need
add an unlimited number of lists to each project
export verified URLs to an Excel file
add the URLs of the pages where your links are active to Backlinks Indexer
BackLink Diver has a unique feature that you won't find with any other similar tool — it is integrated with BackLinks Indexer. With one mouse click you can add the URLs of the pages where your links are active to your account on BackLinks Indexer to have the URLs syndicated across a large network of Web 2.0 Blogs, Micro Blogs, Social Bookmarking Sites, etc. and force search engines to index those pages.
---
How Does Backlink Diver Work? … Simply!
You enter the domains that you want to search for into the backlink checker. Then you paste in a list of URLs that should contain your backlink into the backlink verifier and click the 'Verify' button. From here Backlink Diver works its magic. The backlink verifier software will crawl EACH URL and report whether a valid backlink has been found. The backlink verifier software will also show the anchor text used and whether the link is dofollow or nofollow.