You can go through G-Lock EasyMail7 tour here >>
One time payment!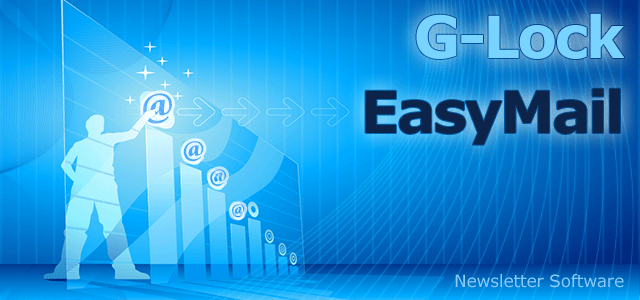 Stop paying for third party autoresponder list management services [we already know how the monthly fees add up and end up costing you more than you're generating].
When you thoroughly analyze what's actually working, you approach the art of email marketing in a whole different way. You don't see email marketing as an expense with a limited budget anymore. You start seeing email marketing as an investment that brings measurable and provable returns and you start producing more leads at less cost.
Here is a simple example:
If you have a list of 25,000 subscribers, you pay $149 per month using an email service provider. This makes $1788 per year.
With G-Lock EasyMail you invest only once. And you can use software forever with unlimited number of subscribers.
Depending on G-Lock EasyMail edition you pay either $149 for the Personal edition, or $349 for the Business edition.
There is no recurring fee. $349 vs. $1788 – you save $1439!
For one-time investment of $349, you get a complete package of features to manage your list, create, optimize and send customized email newsletters, process bounced emails and much much more.
And that's not all…
If you want to track who opened your email and who clicked the links, you can signup for our email tracking service G-Lock Analytics. Our Pro plan for $49 per month fits quite well for a list of 25,000 subscribers.
$49 x 12 months = $588 per year
$349 + $588 = $937
$937 vs. $1788 – you save $851
Well, even if you invest into G-Lock EasyMail and G-Lock Analytics, you save $851 and you get a full arsenal of tools to send and track email campaigns. And what's more important is that you will maintain your in-house email list without exposing your subscribers to any third parties and that you will be able to manage your unsubscribe and bounced emails as well.